Winter Squash and Herb Crackers
Happy Thanksgiving to all my American friends! If you're celebrating the holidays or hosting Christmas parties or family gatherings, I'm sure you're looking for healthy snack ideas. These are the perfect addition to your vegan cheese board!
It's no secret I love to dehydrate and I realized now I have a few cracker recipes here; that is because crackers are so easy and make a perfect snack. They can be made in a big batch ahead of time and kept in the freezer for months. I always have some kind of dehydrated crunchy snack on hand in my freezer.
I'm a huge fan of butternut squash over pumpkin; I think it's an underused ingredient in raw food. Most people don't realize butternut squash and pumpkin can be eaten raw. They make a great base in dehydrated foods such as crackers, pizza bases, wraps and crackers.
Commercial Dehydrators Review
These crackers are dehydrated but I'm sure you could also bake them in your oven at a really low temperature. I was so lucky to receive a new dehydrator from Commercial Dehydrators! They sent me their 16-tray model. I've been so partial to Excalibur because that is what I've used for years but it was exciting to try another brand in my kitchen. I am not an affiliate, and although they did send me this model for no charge I am writing my honest experience with the dehydrator so far.
I was a little intimidated by the size of it at first, and having just moved I wasn't sure how it was going to fit in my new kitchen. But as I unpacked it, I realized it's actually not that large and is able to fit in most residential kitchens. The first thing I noticed is how well-built it is, all the parts look very high quality.
Once I turned it on, I was shocked by how quiet it is, but after looking at their specs, this model is the same amount of watts as a 9-tray Excalibur which is great as it won't hike up my electric bill! But it's much quieter than the Excalibur. I'm not going to compare the two because the models I have are very different than the ones from Commercial Dehydrators. What I do love is that their commercial line is a fraction of the price as the commercial line from Excalibur, making them much more affordable for home use.
I also love that this model has a digital timer and temperature control. The temperature works the same as most dehydrators, working off the temperature of the food because as the food dehydrates and causes evaporation, the food is cooler than the ambient temperature.
In my kitchen, I dehydrate a lot so the 16 trays fill up pretty fast. I will soak a big batch of nuts and seeds and dehydrate them for use, then at the same time I will stock up on snacks such as seasoned seeds, crackers, bread and more. If you're looking at getting a dehydrator I always recommend one with a lot of trays and if you're going to be serious about dehydrating, so far I would recommend this model from Commercial Dehydrators. 
GET 10% OFF USING COUPON CODE CRYSTALDAWN10
Serving Suggestion – I'm going to be serving these topped with herb cream cheese and cranberry and goji chutney!
✅ These crackers are so flavorful and nutritious and easy to make. Check out the recipe below.
✅ If you want to see a video on how these are made, check out my IG reel here.
✅ If you do make these wonderful crackers I would love to see a photo in our Facebook group here.
>> Interested in learning how to incorporate more foods into your day?        
START HERE with my Raw Food Foundations Masterclass!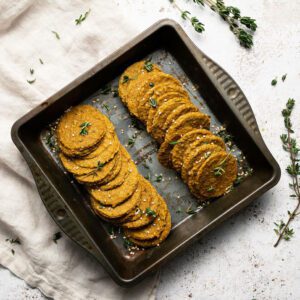 Winter Squash and Herb Crackers
Dehdyrated, flavorufl and nutritious crackers.
Equipment
1 Food Processor

1 Blender

1 Dehydrator
Ingredients
3/4

cup

raw sunflower seeds

1/2

cup

ground golden flax

2

tsp

Italian herb seasoning

1

tsp

onion powder

1

tsp

Himlayan salt

1

stem

rosemary leaves only and minced

3

stems

thyme leaves only and minced

3

cups

peeled and cubed butternut squash

1/2

cup

filtered water

1

tbsp

liquid sweetener (agave, maple syrup or coconut nectar)

1

clove

garlic
Instructions
Process the sunflower seeds, herb seasoning, onion powder, salt, thyme and rosemary in a food processor until the mixture resembles coarse flour.

Blend butternut squash, water, sweetener and garlic until you reach a puree.

Add the dry and liquid batter to a mixing bowl and mix well until combined. The mixture should be thick, if your butternut squash contained a lot of water, add more ground flax until the batter thickens.

Spread the batter on a lined dehydrator tray with an offset spatula. The batter should not be too thin or have holes. If the batter is thick and the spatula is sticking, dip the spatula in water before use.

Dehydrate at 115 F (46 C) for 1 hour and then remove the crackers from the dehydrator, place the trays on your counter and score them into desired shapes. I like to use a round cookie cutter.

Place the trays back into the dehydrator and dehydrate for 8 to 10 hours.

Remove the trays and flip the crackers onto a mesh tray and continue to dehydrate for another 12 hours. For a total of 21 to 23 hours dehydration time. They should be fully dry when done.

Store these in the freezer for optimal crunch. Will keep for months in the freezer.