I LOVE Mexican food, it is definitely one of my favorites, so when I was given the chance to chow down on some raw, vegan tacos I was so excited!  My awesome, new place of work was having a taco potluck to celebrate the start of summer and I was so excited to make a vegan dish for everyone!  I was going to bring in only a couple of items but could not help myself; I ended up making a whole spread!
[widgets_on_pages id="Blog Posts"]
I had so much fun making these recipes and seeing all the components come together.  The taco nut meat is so ridiculously yummy you could also use it as a salad topper.  Not to be biased, but I also make the best guacamole! I make it so often it has become a staple in my house; i will eat it as a quick snack with a bunch of veggies when I'm being lazy or serve it with raw crackers.
These raw vegan tacos are perfect if you are new to raw food and they are a much healthier alternative to the real thing.  They are bursting with flavor and so satisfying you will not walk away hungry.  Even though these seem like a lot of work, they are really not and I had everything ready in a 1/2 hour.
Sure enough these were a BIG HIT at work and everyone was asking me for the recipe so I couldn't wait to post it on my blog!  Enjoy this amazing Mexican feast I know you will enjoy these tacos as much as my co-workers and I did.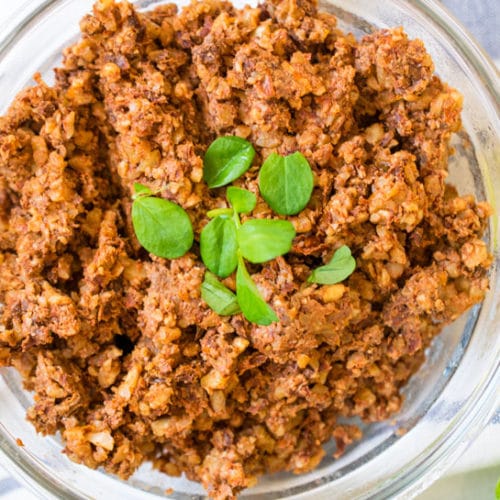 Super Easy Vegan Tacos! (Raw + GF)
Raw, vegan and gluten free tacos made with taco nut meat and lettuce wraps.
Ingredients
Instructions
Taco Nut Meat
Soak sun-dried tomatoes for 2 - 4 hours and drain.

Combine all ingredients in a food processor and pulse until a chunky consistency forms.
Cashew Sour Cream
Soak cashews for 1 hour, rinse and drain.

Combine all ingredients in a high speed blender until smooth.
Guacamole
Combine all ingredients in a food processor until smooth. If you like a more chunky guacamole, pulse ingredients until combined.
Pico De Gallo
Combine all ingredients in a bowl.
Notes
Serve with romaine lettuce leaves, butter lettuce leaves or corn tortillas! Recipes can be stored in a mason jar in the fridge for up to 3 days.