I was clearly in an orange  mood for day 2 of my juice cleanse!  I had some fresh turmeric root and a sweet potato so I decided to make two different orange juices.  The recipe with sweet potato tasted amazing; I sprinkled cinnamon on top and it tasted like carrot cake!
Benefits of Sweet Potato Juice:
High source of beta-carotene
Source of Vitamin C, potassium calcium, Vitamin E
Contains folate, iron, copper, calcium and fiber
I still started my morning off with a Green Juice (get my recipe here) to alkalize my body, then a couple of hours later indulged in a glass of Carrot Cake Juice.  I ate some fresh fruit today; grapes and fresh strawberries.  I feel like I'm weaning myself off food so maybe tomorrow I will only have juice. 🙂
The next juice I made has one of the world's most healthiest foods: Turmeric Root.  I added carrots, gala apples, ginger and lemon.  Turmeric is best known for use in Curry's but it is also widely used as an anti-inflammatory.
10 Benefits of Turmeric Root:
Curcumin is the main active ingredient in turmeric. It has powerful anti-inflammatory effects and is a very strong antioxidant.
Helps prevent Alzheimer disease
Helps to prevent cancer
Reduces risk of heart attacks and strokes
Fights colds and flu
Helps indigestion and weight loss
Assists diabetes sufferers
Read here for more information on the health benefits of turmeric.
I have a glass of each recipe left for tomorrow, but if I turn orange from drinking all these carrots I'll let you know lol! If you are joining me on this cleanse, great start so far and keep up the good work! Stay tuned for day 3…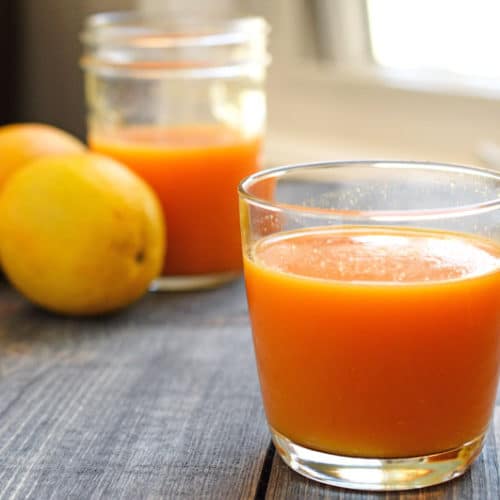 Summer Juice Cleanse 2015 - Day 2
Orange Turmeric and Carrot Cake Juice Recipes
Ingredients
Orange Turmeric
3

large navel oranges

6

carrots

2

inch

piece of turmeric

2

inch

piece of ginger

1

lemon
Carrot Cake
5

carrots

5

gala apples

1

small sweet potato

yam

dash of cinnamon
Instructions
For each juice follow the instructions of your juicer.

I have an Omega 400HD VRT so I wash, peel citrus and cut all my produce into small pieces.

Once put through the juicer, strain with a fine mesh strainer.

Transfer to a mason jar and store in the fridge for 72 hours.