Have you always wanted to make your own raw, vegan chocolate bars at home?
Learn how easy it is with my video tutorial and you will never buy store bought chocolate again.
This is a great base recipe, be creative and add your own flavors, nuts, seeds, dried fruit, the possibilities are endless.
To view the part of the video for the chocolate tutorial, fast forward to 14:30.
In it's unroasted form, chocolate actually has a lot of health benefits, here are just a few:
richest source of magnesium than any other food
keeps you fuller longer, thanks to the MOA inhibitors allowing more serotonin to circulate in the brain
has Phenylethylamine (PEA), an adrenal-related chemical created in the brain that is released when we are in love.  PEA also increases focus and alertness
high amounts of antioxidants – 100 grams of raw cacao powder has an antioxidant rating (ORAC value) of 100, 000 which is super high, compared to Acai berries which only have a ORAC value of 18, 500
To read more about the health benefits of chocolate click here.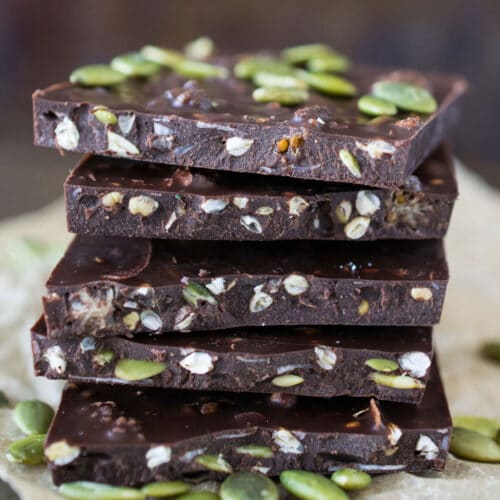 RAW CHOCOLATE
Raw vegan chocolate bars made with only 4 ingredients 🙂
Equipment
double boiler OR bowl and pot, chocolate bar mold, whisk, spatula
Ingredients
100

g

cacao butter

200

g

cacao paste

1/4

cup

coconut nectar

8

drops

medicine flower vanilla essence or 1 tsp vanilla extract
Instructions
Melt cacao paste and butter double boiler method, add sweetener and vanilla and whisk until combine.

Add any flavors you want such as chopped dry nuts, freeze-dried raspberries, flavor extracts etc. Put in preferred chocolate mold and set in freezer for half hour.