Pumpkin Tahini Fudge Recipe video; no-bake, gluten-free, vegan and super simple to make. This healthy dessert is perfect for the whole family as dessert or snack any time of the day.
Who knew tahini and pumpkin paired so well together, they are a match made in heaven! I may be a little obsessed with pumpkin recipes at the moment, but tis the season, right?
I moved to Vancouver, BC in June and still have not met that many friends but I am so happy I connected with a very special person here: Candise Pearce from Frulution! We have teamed up to work on some projects together and will be bringing you more videos in the future.
I feel so blessed to have connected with Candise as we have a lot of the same value and goals which all lead to helping others live healthier lives through food, nutrition and detox. Stay tuned for more collaborations.
Now, let's get to this recipe! Pumpkin, Pumpkin, Pumpkin, I love pumpkin, especially in dessert form.
Pumpkin has so many nutritional benefits:
High in antioxidants, such as alpha-carotene, beta-carotene and beta-cryptoxanthin. These can neutralize free radicals, stopping them from damaging your cells

High in Vitamins A and C, potassium, zinc and fiber

Reduces inflammation
Enjoy this simple easy recipe as dessert at thanksgiving dinner, work energy snack or anytime of the year.
WATCH THE FULL RECIPE VIDEO HERE: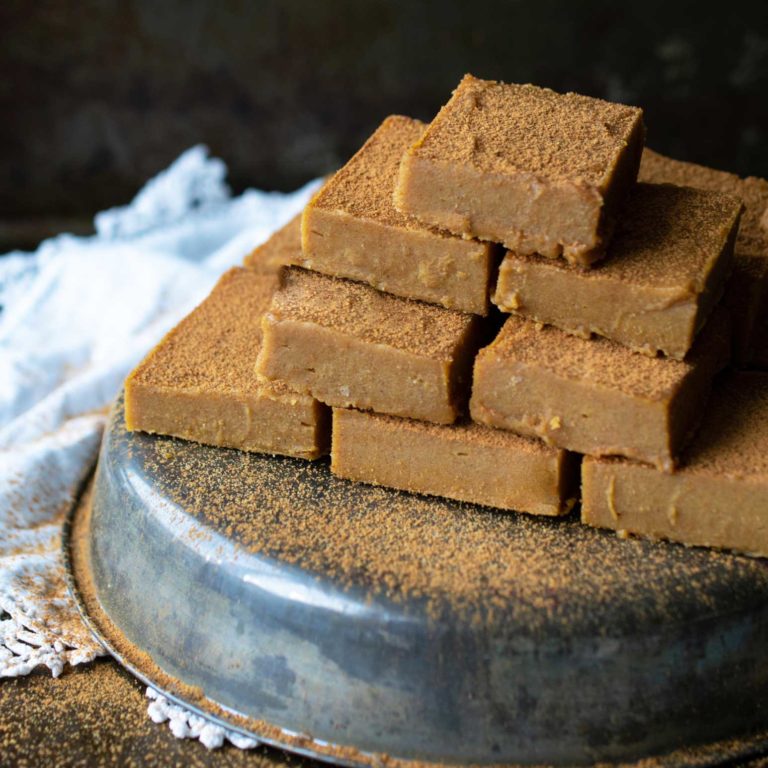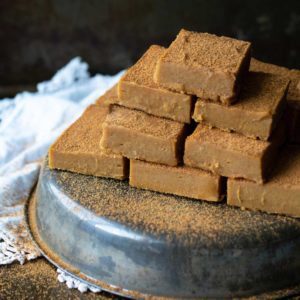 Pumpkin Tahini Fudge
Gluten-free, Vegan, No-Bake fudge recipe only using a few ingredients and blender.
Instructions
Blend all ingredients except cacao butter in a high-speed blender until smooth.

Add melted cacao butter and blend again until well combined.

Line an 8 x 8 square pan with parchment paper.

Pour batter into lined square pan and set in freezer for 1/2 to 1 hour.

Remove fudge from pan and cut in desired shapes.
Notes
STORAGE: fridge for 1 week or freezer for 1 month.