Today was my first day back from a 5 day social media break. (I know it's not that long, I would have liked to take a longer break but I have a business to run!) It was the best thing I could have done right now; i got so much done I have been putting off for a while. And… I was able to create a couple of pumpkin recipes for the blog!
Who else loves fall only because of the flavors… pumpkin, ginger, cinnamon, allspice… yummy! During the season I literally put pumpkin spice in EVERYTHING! I've put it in my granola, coconut whipped cream, ice cream, chocolate, smoothies, and almond mylk! When I made this almond mylk I knew I had to put the recipe on the blog for all of you because it is just SO good and super easy!
Everyone should be making their own nut mylk especially since commercially sold almond mylk is only made of up 2% almonds, mostly water and thickeners, like carageenan which can cause inflammation in the body.  Homemade almond mylk contains vitamin E and riboflavin, and 1 cup equals to 55 calories, 5 grams of fat and 1 gram of fiber.
If you have never made your own almond mylk before you are missing out! The homemade version is so creamy and thick and actually tastes like almonds. You also have the benefit of controlling what goes into your mylk, such as spices and healthy sweeteners. Adding a sweetener is totally optional but adding one like coconut nectar will keep it low glycemic and add minerals. There are so many flavor combinations you can add to your nut mylk; chocolate, vanilla, sweetened, unsweetened, berry, matcha, turmeric… and so on!
You will need a nut mylk bag or cheese cloth to make nut mylk. I purchase all my nut mylk bags on amazon, I find they have the best variety. If you can, buy one that is organic and not made from synthetic materials. You can buy my favorite one here. I hope this post inspires you to start making your nut mylk, enjoy!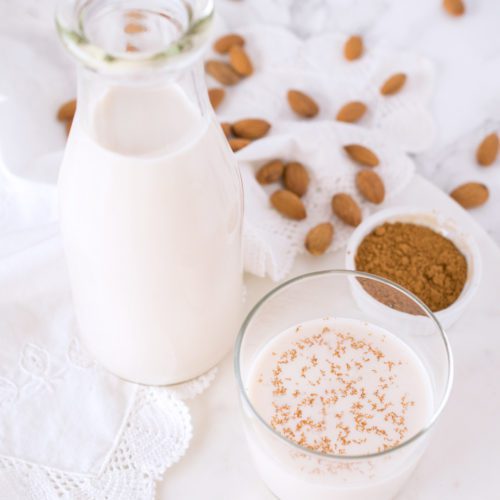 Ingredients
1

cup

raw almonds

soaked overnight

4 - 5

cups

filtered water

2

medjool dates

soaked and pitted

1

teaspoon

ceylon cinnamon

1

teaspoon

vanilla

¼

teaspoon

ground ginger

¼

teaspoon

nutmeg

¼

teaspoon

allspice

dash

of ground clove
Instructions
Soak raw almonds overnight or 8 hours, strain and rinse very well.

Add all ingredients to a high-speed blender and blend for 30 seconds.

Strain liquid through a nutmilk bag into a bowl.

Seal pumpkin spice mylk in a glass container or jar.
Notes
Mylk will stay fresh in the fridge for 3 to 5 days. Drink as is or add to your favorite cereal, granola, smoothies or baking. You can less or more water depending on your desired consistency.