I have a new vegan pumpkin recipe here for you; Vegan, Gluten-Free Pumpkin Cake Bites! Canadian Thanksgiving was this weekend and was so blessed to spend time with family.
I lived in Edmonton, Alberta for 10 years so it's been a long time since I've spent a holiday with my family! My younger sister lives on Vancouver Island and was so blessed to travel there for the day to visit her and my little nephew who is the CUTEST!! I'm sure everyone says that but really; he is the cutest! I hope everyone in Canada had a wonderful Thanksgiving filled with lots of food and quality family time.
I hate to admit but pumpkin season is my fave; anything with pumpkin, pumpkin spice, cinnamon, apple… yum! I end up posting a lot of pumpkin recipes this time of year and I LOVE it 🙂 This recipe is adapted from Spirulina Mint Bliss Balls taught in Pure Joy's Plant-Based Low Carb Chef Certification. They are one of my favorites and knew it would be good as a pumpkin cake bite.
If you haven't noticed, I'm a big dessert fan, and I like making dessert, especially with pumpkin! These Pumpkin Cake Bites are also a good energy snack or dessert.
I've found a new love for Irish Moss Paste recently and love creating recipes with it. I was on the fence with irish moss for a long time as there is so much controversy about this ingredient and recently learned there is a quite a lot of nutritional benefits and found my body does not react negatively when eating it.
Irish moss is so versatile in raw recipes: replace oil in salad dressings, create a firm texture in desserts, thicken sauces, bind raw cakes, and can even add it to smoothies and juices!
Health Benefits of Irish Moss:
Contains trace amounts of several minerals and amino acids.

Provides excellent sources of calcium, magnesium, sodium and iodine.

Contains mucilaginous compounds that enhance detoxification of the digestive system.
Remember it's important to make time for family all year-round not just at holidays. We can all get busy and make excuses! 🙂
Check out my video here on how to make Irish Moss Paste!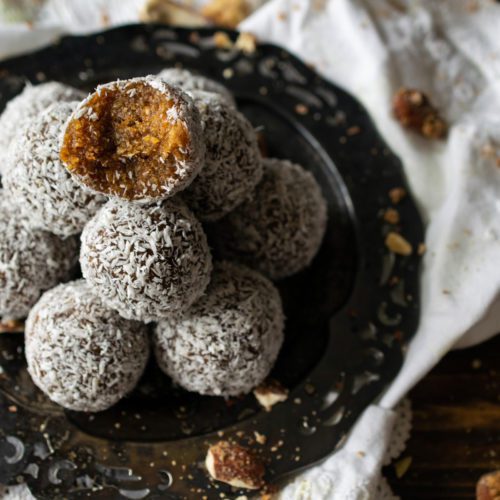 Pumpkin Cake Bites
These bites taste just like cake and are vegan, gluten-free and low glycemic!
Instructions
Process dry ingredients in a food processor until a flour forms.

Add wet ingredients except irish moss paste and process until combined.

Add irish moss paste and process until a dough forms.

Place batter in a bowl, roll into balls and roll in fine shredded coconut.

Set in fridge for 1/2 hour and enjoy!