I'm so excited to share this Pink Beet Smoothie recipe with you all!
I am writing this post late on a Friday night after a crazy, exhausting week. I have a problem of taking on too many projects at once and running myself into the ground until I'm super run down. Why do us women do this to ourselves!!??
I put so much pressure on myself to be perfect, and do everything perfect, and then when I realize I can't DO EVERYTHING I feel like I have failed and I'm so hard on myself. I'm sure SO MANY of you can relate! I need to stop this asap! Okay, enough of my rant, let's get to this delicious pink smoothie which helps me get through my day!
It's no secret I LOVE Beets, I probably eat at least one a day, in the form of a smoothie, juice or in a salad. I have heard a lot lately that most people don't generally like beet smoothies because they taste too much like dirt.
When you are adding beet to a smoothie it can be an acquired taste and texture if you don't use the right ingredients to make it more palatable. I found the secret is to make a creamy beet smoothie and add extra sweetness; in this case, I added hemp seeds to create a wonderfully creamy texture and dates for extra sweetness.
I recently visited the doctor for an annual physical, and we reviewed my blood test results. My doctor was shocked to see my perfect iron levels (he said, any higher and I would have toxicity), which I contribute to all the beets I eat since they are high in iron and an awesome blood builder!
Why you should be eating more beets:
One study found that drinking one glass of beet juice lowered systolic blood pressure by an average of 4-5 points.

Those who drank beet juice prior to exercise were able to exercise for up to 16 percent longer

.

Unique source of betaine, a nutrient that helps protects cells, proteins, and enzymes from environmental stress.

The betalin pigments in beets support your body's Phase 2 detoxification process, which is when broken down toxins are bound to other molecules so they can be excreted from your body.
Lear more about the health benefits here.
Goodnight, I hope you enjoy this recipe as much as I do!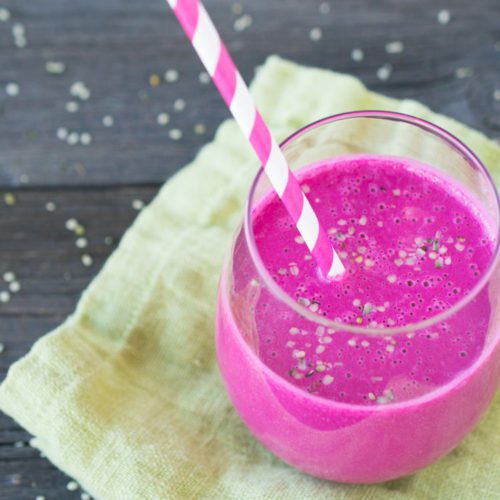 Pink Beet Smoothie
Delicious vegan creamy beet smoothie for energy and detox.
Instructions
Place all ingredients in a high speed blender and blend until smooth.
Notes
If the beet is large only use 1/4.