Finally, a new recipe is up – Immune Boosting Superfood Elixir! It only took me 2 months haha! I will be posting more in the near future, my main goal is to work on my blog; I will be adding more recipes, raw food nutrition information, kitchen equipment, etc.  If there is anything you would like to see added, or raw food information you specifically would like, please let me know and I would be happy to consider adding it.
It's fall here in Edmonton which means outdoor market season is almost over, only two more weeks. I have been very busy with starting my farmer's market business, I thought I would have more time to work on other projects like my blog, but that's okay because I have a break coming very soon! There is just never enough time in a day.
I have made this Immune Boosting Superfood Elixir all summer. Not only does it nourish your body, offer a ton of antioxidants and boost your immune system, it is also a good treat when you are craving something sweet because it tastes like hot chocolate. I usually don't like putting too many superfoods in my drinks but it works in this recipe.
I think everyone knows by now that I am obsessed with Chaga Mushroom Powder. If you still do not know what it is or have never tried it, I suggest you jump on the band wagon! Lets talk about Chaga Mushroom and the other superfoods in this recipe in more detail.
Chaga Mushroom
What is it? A mushroom that grows on birch trees in cold habitats such as North America, Russia, Korea and Northern Europe.
Antixodiant – Chaga mushrooms have the highest ORAC score (Oxygen Radical Absorbent Capacity) for antioxidants ever recorded in any natural food – approximately 1,104 units per gram!
Cancer fighting – not only does the betulinic acid found in chaga help to eliminate cancer cells, but this herbal tea can also help to overcome the unpleasant effects of chemotherapy.
Supports Healthy Digestion – With its anti-inflammatory effect, chaga may relieve digestive discomfort and promote better digestive funtction.
Promotes Healthy Skin – Chaga is a natural source of melanin, the pigment that darkens skin and provides protection against solar UV rays. With its anti-inflammatory effects, chaga can help to clear skin conditions like rashes, acne and eczema more quickly. It even protects the firmness and elasticity of skin, delaying the formation of wrinkles.
Shilajit
What is it? Derived from biomass resin in the Himalayan and Tibet mountains containing over 85 minerals and trace elements the human body needs to function optimally and fulvic acid which helps the body absorb these minerals at a cellular level. Shilajit has been used in Ayurveda medicine for thousands of years, for a more detailed description click here.
Health Benefits: Boosts energy, supports brain health, regulates hormones and the immune system, balances blood sugar, supports memory and mood, and is also high in iron.
Mesquite
What is it? Mesquite pods (ground into a powder) grow on mesquite trees in deserts around the world. Mesquite is used a sweetener or a flour replacement. It has a nutty/caramel flavor and smells divine.
Health Benefits: anti-fungal, prevents headaches and migraines and balances blood sugar.
Contains: Omega 3's, Soluble Fiber and is high in the amino acid Lysine.
For health of benefits of Raw Carob Powder, check out my recipe for Oat Carob Energy Bites.
Enjoy this Immune Boosting Superfood Elixir, your body will love you for it!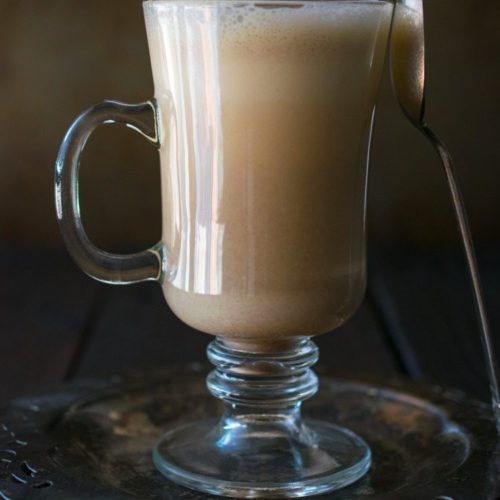 Immune Boosting Superfood Elixir
A warm drink that will boost your immune system and provide a ton antioxidants and nutrients.
Instructions
Place all ingredients in a high-speed blender and blend until warm.

Serve with a sprinkle of cinnamon on top.