It was 20 degrees (Celsius) in Edmonton, Alberta (Canada) so I was craving something light and refreshing! If I drank alcohol I would have indulged on some margaritas, but since I do not, this was the next best thing!  This smoothie is so refreshing and made it feel like summer.  I always have Goji Berries on hand and I sure do not use them enough; I always forget what a powerhouse of nutrients they are.
Why you should be adding goji berries to your diet:
Rich source of antioxidants such as polyphenols, flavonoids and carotenoids.
Super high in Vitamin A and C, they contain 500 times more vitamin C than an orange.
Also contain; 11 essential vitamins and 22 trace minerals, including 24 percent of our RDI of potassium, 18 percent of our RDI of zinc and a whopping 100 percent of our RDI of iron, copper and riboflavin. They also contain 8 polysaccharides, a primary source of dietary fiber.
One serving of dried goji berries has 4 grams of protein
To learn more about the amazing nutritional benefits, click here.
The lime in this smoothie pairs perfectly with Goji Berries,  Pineapple and Strawberries! And again, I had to add an extra boost of vitamin C so I threw in some Camu Camu Berry Powder; it just seemed right.
Enjoy this smoothie on a nice hot summer day or spring afternoon, you will love it!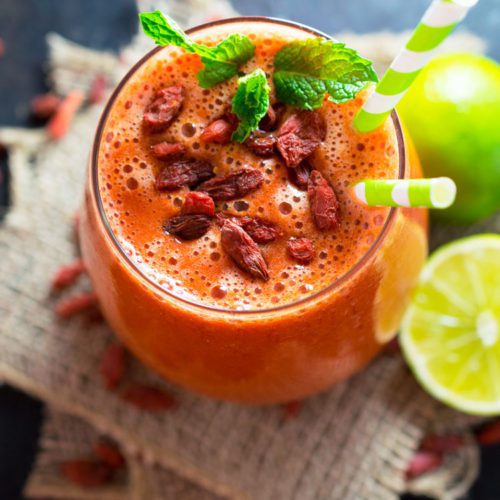 Goji Berry Lime Smoothie
A refreshing light summer drink!
Ingredients
1/4

cup

dried Goji Berries

1/2

cup

Frozen Pineapple

1/2

cup

Frozen Strawberries

1

Lime Peeled

1

teaspoon

Camu Berry Powder

Enough coconut water to cover all ingredients in blender.
Instructions
Place all ingredients in a blender and blend until smooth.