Canadian Thanksgiving is next weekend so this raw, gluten-free fall pomegranate pumpkin salad here is a great recipe to bring along to your family dinner! Who knew you could eat pumpkin raw? And wow, let me tell you; once marinated in a delicious dressing like this, you will love it!
Life Update
This is my first recipe blog post in a long time and there is good reason for that; I have been really blessed to receive a lot of opportunities this year which have kept me really busy. I taught a raw chef certification in Bali last April which I will blog about as it was an amazing experience.
When I returned home I had to pack up and move from Edmonton, AB to Vancouver, BC for June 1st, and leave right away to Bend, Oregon to intern at Pure Joy Culinary Academy during their Plant-Based Chef Certification Program.  I will also blog about that experience because it was one of the most memorable months of my life! Bend, Oregon is the one the most beautiful places I have ever visited.
I enjoyed the rest of the summer in my new hometown (which I was actually born and raised in) of Vancouver, BC while working at a plant-based café in North Vancouver and developing a new plant-based menu for a cafe in New Westminster.
Fast forward to September I jetted off to beautiful Montenegro (small country next to Croatia) to help cater a plant-based dinner at Monte Bay Retreat in Perast. If you have never been to Montenegro and are looking for sun, relaxation and nature, please go!! I fell in love with Montenegro; the people, beauty and weather. Check out my instagram for more details on my trip.
I ended my trip in London to take a private class with Amy Levin! I have followed her for a long time and took her raw chocolate courses online in 2015 so I was beyond excited to meet her! If you ever visit London and are into learning more about plant-based chocolate and desserts, she is a master teacher! Check out my instagram for pictures.
Back to this delicious recipe of so many flavors and textures you will want to keep coming back for more. Wow your family and friends with this pumpkin salad and they will thank you for it. This recipe was inspired by a show I saw on my flight back from London with a chef from Israel (I wish I could remember his name).
Pumpkin has so many nutritional benefits:
High in antioxidants, such as alpha-carotene, beta-carotene and beta-cryptoxanthin. These can neutralize free radicals, stopping them from damaging your cells

High in Vitamins A and C, potassium, zinc and fiber

Reduces inflammation
This is a great dish to have at Thanksgiving dinner or for lunches at work and is one of my favorite recipes so far!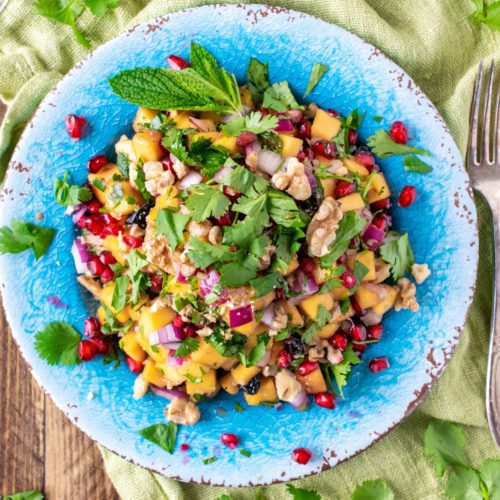 Fall Pomegranate Pumpkin Salad
This fall inspired salad will activate your tastebuds with sour, salt, sweet, with so many textures.
Ingredients
Pumpkin Salad
1

sugar pumpkin, raw

de-seeded and small diced

seeds

from half of 1 pomegranate

1/3

cup

cilantro

chopped

1/4

cup

mint

chopped

1/4

cup

walnuts

chopped

1/4

cup

red onion

diced

2

tbsp

dried blueberries

or cranberries
Pomegranate Dressing
1

tbsp

olive oil

1

tbsp

apple cider vinegar

1

tbsp

coconut nectar

or any liquid sweetener

1

tbsp

pomegranate juice

preferably pure

1/4

tsp

himalayan salt

or any high mineral salt

pepper

to taste
Instructions
Prepare all salad ingredients as instructed and place in a medium-size bowl.

In a separate small bowl, add all dressing ingredients and whisk until combined.

Pour dressing on salad and mix well. Let sit for 1/2 hour for flavors to marinate pumpkin.

Add extra salt and pepper to taste.
Notes
Makes 4 small side servings or 2 dinner servings.