I would like to share my favorite chocolate recipe!  Why is it my favorite? Because it is so easy! Who knew making your own healthy dark chocolate was so easy, using only three ingredients.  I promise, after you make this, you will never buy chocolate again.  I don't know about you, but I am a chocoholic!  I eat it in some form almost every day, but in a healthy way.
In its raw form, chocolate actually has a lot of health benefits, here are just a few:
richest source of magnesium than any other food
keeps you fuller longer, thanks to the MOA inhibitors allowing more serotonin to circulate in the brain
has Phenylethylamine (PEA), an adrenal-related chemical created in the brain that is released when we are in love.  PEA also increases focus and alertness
high amounts of antioxidants – 100 grams of raw cacao powder has an antioxidant rating (ORAC value) of 100, 000 which is super high, compared to Acai berries which only have a ORAC value of 18, 500
To read more about the health benefits of chocolate click here.
There are multiple ways you can make this recipe; using chocolate molds, in a small pan lined with parchment paper, or on top of another one your favorite snacks.  For this post I used chocolate molds I purchased from amazon. This is also the same recipe I used for the topping on my Oat Fudge Bars from one of my earlier posts.
Enjoy this amazing recipe! If you have any questions, please feel free to contact me!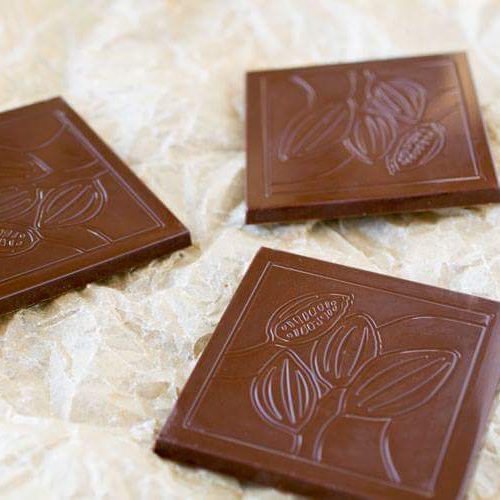 Easy Raw Vegan Chocolate
Raw Vegan Chocolate, super easy to make with only three ingredients.
Instructions
Melt the cacao butter double boiler method on the stove with the lowest heat setting.

Add the cacao powder and mix until smooth. Once mixed, add the liquid sweetener and mix again.


Place liquid mixture into a chocolate mold or a small pan lined with parchment paper.

Place into the freezer for minimum 1/2 hour.

Take out of the freezer and enjoy!

Store extra in the freezer.
Notes
Be creative! After a few minutes in the freezer the chocolate should be a little firm and you can add your favorite nuts or berries by placing them on top.