These Black Sesame Daikon Crackers dehydrated are much different than most raw crackers you would usually see. I recently was gifted some black sesame butter from Eternal Abundance Market here in Vancouver, BC and I was so excited to use it! I haven't been able to find black sesame butter anywhere else so it was a real treat.
I've been eating and shopping at Eternal Abundance for years as they are a healthy, organic, vegan café and store here in Vancouver, BC on commercial drive.
If you're in Canada and you would love to make this recipe you can enjoy 10% off your whole order if it includes Ecoideas Black Sesame Butter until the end of March using coupon code: BLACKSESAME
You can reap the benefits of their entire online store as they ship anywhere in Canada!
After testing a few recipes with this product, I fell in love with these crackers. I wanted to use ingredients that would pair well with the black sesame theme so I decided to add in some daikon radish. I wasn't sure how the daikon radish would taste but once you add in the coconut sugar it decreases the pungent taste.
If you've never had daikon radish, it looks like a large long white tube. It's not as strong as red radish but still has a bite and is a nice addition raw to salads. I love spiralizing it and adding it to a variety of noodles. Daikon radish is very high in Vitamin C, Potassium and Phosphorus.
Another star ingredient in this recipe is the black sesame butter. Black sesame seeds are rich in antioxidants, macrominerals and trace minerals. They are also great as a garnish on salads and in noodle dishes. I use them to garnish my Asian Squash noodles. 
Want to learn how to spread the batter onto a dehydrator tray and make nice, even shapes? Check out my YouTube video here, where I show you how to make flax crackers. Have fun with the shapes. I used a round cookie cutter and they are really easy to score because the batter is quite thick.
If you're in the Vancouver area and you would love to make this recipe you can enjoy 10% off Ecoideas Black Sesame Butter until the end of March using coupon code: BLACKSESAME
Enjoy this recipe and if you happen to make them I would love to see a photo in the Facebook group here.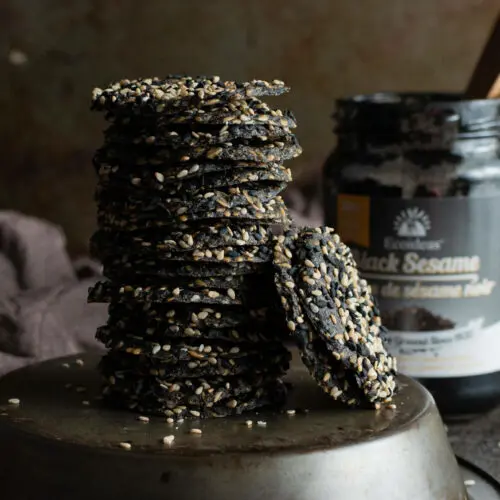 Black Sesame Daikon Crackers (Dehydrated)
Dehydrated raw, vegan black sesame crackers; super flavorful and easy to make.
Equipment
High-speed blender, dehydrator, large offset spatula, 2.25" round cookie cutter
Ingredients
1

cup

peeled and chopped daikon radish

1

cup

peeled and chopped zucchini

¼

cup

black sesame butter

2

tbsp

coconut sugar

2

tbsp

tamari

or coconut aminos

2

tbsp

lime juice

1

clove

garlic

½

tsp

chili flakes

¼

cup

filtered water

1

cup

golden flax seeds

¾

cup

ground golden flax
Instructions
Blend all ingredients except flax in a high-speed blender until smooth.

Add batter to a mixing bowl with flax and mix well until combined, removing any clumps.

Line a dehydrator tray with a paraflex sheet or parchment paper. (I use an Excalibur with 14 x 14 trays.)

Using a large offset spatula, spread batter out on a lined dehydrator tray all the way out to the outer edges. Make sure batter is not too thick; the thinner the batter, the crispier the crackers.

Work fast as batter will thicken quickly. If batter is too thick to spread, dip your offset spatula in water and continue spreading.

Garnish top with black and white sesame seeds. Press down lightly with your hands to make sure they stay in the batter.

Score into desired shapes (I used a 2.25" round cookie cutter) and dehydrate at 115F for 4 to 6 hours.

Flip onto a mesh dehydrator try and continue to dehydrate for 16 to 18 hours until completely dry and crunchy. At this point you can use the cookie cutter to score the same spots to remove the shapes away from the rest of the batter.

Storage: Freezer for 3 months. (I always store my dehydrated goodies in the freezer to retain optimal crunch.)
Notes
When you flip your crackers onto a mesh tray, do it on a surface as some of the sesame seeds that you used as a garnish on top will fall. The little mess is well worth it as you can see they look amazing with the two colored seeds on top.