I have been making so many awesome smoothie recipes recently and I cannot believe I have not shared ANY with you yet!  I have been drinking this one about 3 times week, not only because I'm so in love with Chaga Mushroom powder (and find any way I can incorporate it into my diet), also because this reminds me of a chocolate milkshake without the chocolate, dairy or sugar!
I posted another recipe recently using chaga mushroom powder explaining it's superstar qualities, so in case you missed it, here are just some of the nutritional benefits:
Antioxidant – Chaga mushrooms have the highest ORAC score (Oxygen Radical Absorbent Capacity) for antioxidants ever recorded in any natural food – approximately 1,104 units per gram!
Cancer fighting – not only does the betulinic acid found in chaga help to eliminate cancer cells, but it can also help to overcome the unpleasant effects of chemotherapy.
Supports Healthy Digestion – With its anti-inflammatory effect, chaga may relieve digestive discomfort and promote better digestive function.
Promotes Healthy Skin – Chaga is a natural source of melanin, the pigment that darkens skin and provides protection against solar UV rays. With its anti-inflammatory effects, chaga can help to clear skin conditions like rashes, acne and eczema more quickly. It even protects the firmness and elasticity of skin, delaying the formation of wrinkles.
Read more about the benefits of chaga mushroom here.
I also included the recipe for vanilla bean coconut whipped cream, which pairs so nicely with this recipe! Top it off with strawberries, any fresh fruit or even walnuts! ENJOY!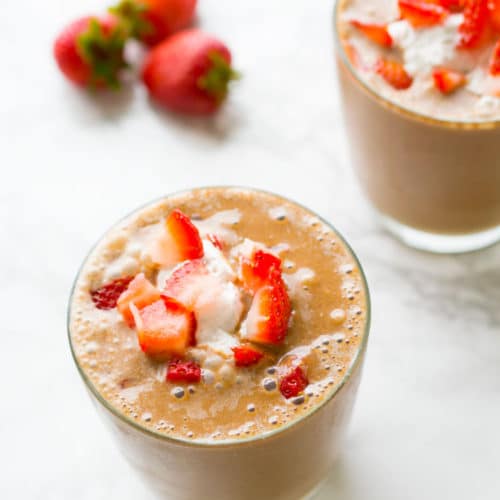 Banana Carob Smoothie with Chaga Mushroom Powder
Vegan carob banana smoothie with a special immune boosting ingredient!
Ingredients
Vanilla Bean Coconut Whipped Cream
1

can of full fat premium coconut cream

2

tablespoons

agave nectar

or any other liquid sweetener
Instructions
Smoothie
Blend all ingredients until smooth.
Coconut Whipped Cream
Place the can of coconut cream in the fridge overnight to chill.

Remove coconut cream from fridge, turn can upside down, open and drain out all coconut water into a jar and save for another smoothie.

Remove coconut cream into a bowl and add sweetener and vanilla bean.

Using a hand electric mixer, beat cream until fluffy and smooth.
Notes
You can substitute raw carob powder with raw cacao powder, almond milk with any other vegan milk and add ice cubes if you want!