It has been a while since I have posted a smoothie recipe!  I made this one on the fly last week when I was craving something berry refreshing… lol, and this recipe turned out so amazing I had to share it with all of you!  Berry season is almost over and that means the outdoor farmers markets are coming to a close soon 🙁 so I stocked up on a ton of berries from the market and put them in the freezer for smoothies!
I was so obsessed with blackberries this summer which was weird because normally they are not my favorite, they were extra sweet and tasty this year!  Don't forget blackberries contain many health benefits, here are just a few:
Full of antioxidants
Contain anti-cancer properties
Provide protection against the endothelial dysfunction which is characterized by the abnormal functioning of inner lining of blood vessels
Cognitive effects – Research has suggested that polyphenolic components present in blackberries help retard the age-related decline in motor and cognitive activity attributing to their super antioxidant power
Improve digestive health
For more read here.
I was at the organic market and spotted a superfood powder I have yet to try – Antioxidant Berry Blast.  I get so excited when I try something new so I couldn't wait to create a recipe with this!  Organic Traditions have come out with so many unique products lately, props to them!
Organic Traditions Antioxidant Berry Blast is a delicious blend of Blueberries, Acai berries, Maqui berries and Camu Camu berries. This blend is a refreshing and nourishing powerhouse of nature's most antioxidant rich superfruits. Blueberries, Maqui berries and Camu camu berries all provide whole food Vitamin C while Acai berries are a source of Fiber and monounsaturated fatty acids such as Oleic Acid or Omega 9. Antioxidant flavonoids known as anthocyanins give these berries their striking purple pigment. One serving of Antioxidant Berry Blast delivers an ORAC value of 2,600 per 1 teaspoon 4 gram serving. The ORAC value is a measurement of the antioxidant capacity of different foods. It is a concentrated powder with no fillers, flavors, sugars or excipients added, just pure antioxidant rich berries with an incredible taste.
I also added protein powder and chia seeds because I like to throw the two in wherever I can.  This smoothie is super creamy, sweet, and so refreshing; try it, you will love it!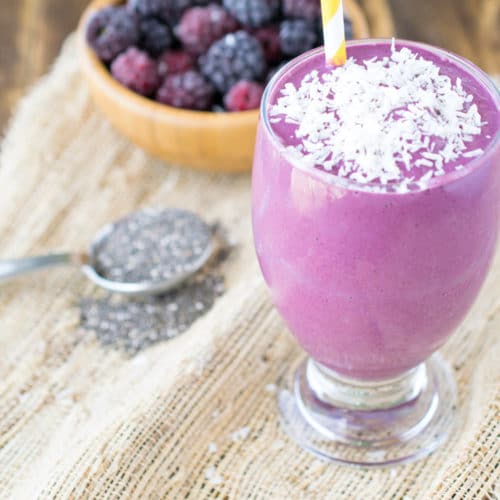 Antioxidant Berry Blast Protein Smoothie
Delicious blackberry and banana protein smoothie loaded with antioxidants.
Ingredients
1

cup

almond milk

1/3

cup

frozen blackberries

1

frozen banana

1

scoop sunwarrior vanilla protein powder

2

teaspoons

chia seeds

1

teaspoon

antioxidant berry blast blend

organic traditions
Instructions
Place all ingredients except shredded coconut into a high speed blender and blend until smooth.

Garnish with shredded coconut.
Notes
You can also use Maqui Berry Powder, Goji Berry Powder or Acai Berry Powder for the antioxidant boost!