If you like fettuccine Alfredo and are looking for a healthier version, look no further! It's no secret I love zucchini noodles, and anything creamy; so this is the perfect combination!
I was shopping in my favorite grocer; Earth's General Store here in Edmonton, AB and I came across this green vegetable that looked foreign to me. After a discussion with one of the store clerks, I found out it was Sea Asparagus from British Columbia! I know, sounds weird right? Actually, it grows in ocean water near the coastline similar to rice and is really popular in Hawaii.
Sea asparagus packs a punch when it comes to nutrition and health benefits. Here are only a few:
Contains high levels of Vitamin A, Vitamin B, folic acid, and vitamin B9.
Helps detoxify the liver and improve muscle function.
Contains TMG; a super antioxidant against the homosystine. Homosystine is the leading cause of stroke and cause for liver disease.
Soak Sea Asparagus for a minimum of 1 hour to remove salt as it grows in ocean water. I'm not going to lie, the first time I tried Sea Asparagus I found it very salty! I do not eat a lot of salt so I was not used to the flavor, a little goes a long way!
I had one of my friends over to enjoy this delicious meal with me and she absolutely loved it! Make this dish for a friend, loved one or your partner, they will love you for it!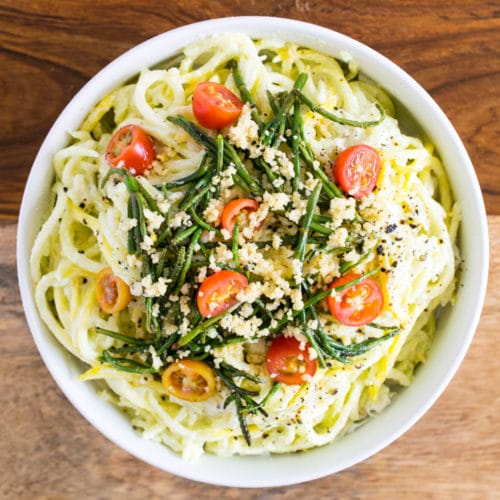 Yellow Courgette Alfredo with Sea Asparagus
Raw, Vegan, Gluten-Free Zucchini Alfredo with sauteed Sea Asparagus
Ingredients
Zucchini Noodles
2

large yellow zucchini

courgette
Alfredo Sauce
1

cup

macadamia nuts

soaked

1/3

cup

pine nuts

1/2

zucchini

3

cloves

of garlic

2

tablespoons

lemon juice

1

tablespoon

agave

5

basil leaves

1

teaspoon

thyme

Water as needed
Sea Asparagus
1

cup

sea asparagus

soaked

1

teaspoon

olive oil
Instructions
Zucchini Noodles
To make zucchini noodles use a spiralizer, spirooli or vegetable peeler and set aside.
Alfredo Sauce
Soak the macadamia nuts for 30 minutes, drain and rinse.

Peel the zuchinni to keep the sauce white.

Blend all ingredients in a high speed blender until smooth.

Mix about 2 to 4 tablespoons of Alfredo sauce with noodles in a bowl until combined.
Sea Asparagus
Soak sea asparagus soaked for a minimum of 1 hour, drain and rinse.

Saute with olive oil.
Pine nut Parmesan
Blend pine nuts in a mini food processor until the consistency of Parmesan is reached.

Garnish noodles with your pine nut Parmesan and sea asparagus.
Notes
You can also garnish with cherry tomatoes.