I was offered the opportunity to review Ginny McMeans' new cookbook The Make Ahead Vegan Cookbook.  If you haven't stopped by her blog Vegan in the Freezer, I highly recommend you do; Ginny's approach to healthy and ethical eating is creating simple vegan recipes you can freeze including shelf life, storage and freezing instructions.
The Make Ahead Vegan Cookbook takes this approach a step further and includes easy to follow detailed instructions on how to freeze foods properly, including storage times, tips and tricks and which containers to use.  Did I mention her cookbook includes 125 recipes each with their own beautiful color photo?
Once I received the cookbook and reviewed it, I was amazed at how easy the recipes were!  This cookbook is perfect for everyone including those just starting out in the kitchen on a vegan diet.
I was able to choose any recipe I wanted to make for this review, and it was REALLY hard to choose!  I decided to make the Baked Stuffed Sweet Potatoes because the cold Edmonton, Alberta weather had me craving comfort food.
The recipe was really easy to follow and only took 1 hour to make (including baking time).  What a great idea to add black beans in potatoes; the combination of black beans, onions and mushrooms were a great addition.  I was eating the mixture straight out of the pan (shhh…).   This recipe does not call for cilantro but I love my greens, so I added a bit on top.
Enjoy this recipe from Ginny McMeans, if you are interested in her cookbook, you can purchase the kindle or hardcover version here.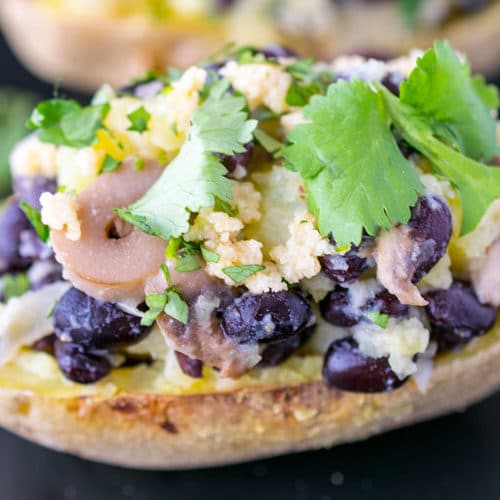 Baked Stuffed Sweet Potatoes
Sweet potatoes are packed full of vitamins and minerals. These sweet potatoes are even better because they are packed with more veggies and then baked again. Great to have premade for when company is coming. YIELD: 6 TO 8 SERVINGS | ACTIVE TIME: 25 MINUTES | COOK TIME: 45 MINUTES | TOTAL TIME: 1 HOUR 10 MINUTES
Ingredients
6

medium-size sweet potatoes

as oval as you can find

1

tablespoon

coconut oil

½

cup

red onion

diced

8

ounces

button mushrooms

sliced

1

can black beans

15-ounce,

drained and rinsed

4

tablespoons

nondairy butter

¼

cup

nondairy milk

1

teaspoon

sea salt

Freshly ground black pepper

1

tablespoon

Nondairy Parmesan Cheese
Instructions
Preheat the oven to 350°F.

Wash and dry the sweet potatoes. Pierce with a fork so that they do not explode when baking.

Place on a baking sheet and bake for 45 minutes. Pinch the center to test whether they are done. They should not be hard at all.

While the sweet potatoes are baking, heat the coconut oil in a large skillet over medium-high heat.

Add the onion and mushrooms and sauté for 10 minutes.

Add the beans and heat through for a couple of minutes.

Remove the baked sweet potatoes from the oven. Cut lengthwise right down the center so that you have two boat-shaped halves. Scoop out the center and place in a

large bowl. Do this with all the sweet potatoes, reserving their shells.

Mash the sweet potatoes with a potato masher and add the butter, milk, salt, and pepper to taste. Mix well.

Fold in the bean mixture. Taste to see whether you think it needs more salt or pepper.

Evenly divide the mixture among the empty sweet potato shells.

At this point you may refrigerate or freeze the stuffed potatoes; otherwise, place the potatoes on a baking sheet and bake for 20 minutes.
Notes
Storing in the refrigerator:
Place the stuffed potatoes in a large casserole dish and cover with plastic wrap. Store for up to 3 days. Freezing:
Freeze in hard-sided freezer containers according to how many will fit comfortably in each container. Will keep for up to 4 months.
Defrost in the refrigerator overnight.
Some water may defrost into the dish but you can just drain this off and bake in a casserole or on a baking sheet as usual.
Reprinted with permission from "The Make Ahead Vegan Cookbook" by Ginny Kay McMeans