These Sunwarrior Butter Cup Bites are insane… that's all I'm saying lol! You won't feel guilty eating a lot at once because they are so healthy! Who would think white vegan chocolate could be so good! Instead of using milk powder for the base, I used my Vanilla Sun Warrior Protein Powder so you also get the benefits it has to offer:
Always raw and vegan*
Contains all essential amino acids in a complete, balanced profile*
One of the best protein powders for any lifestyle, not just vegan or vegetarian*
Free of solvents, GMOs, radiation, artificial flavors, artificial preservatives, or artificial colors*
Contains no animal products, dairy, egg, gluten, soy, added sugar, wheat, or yeast*
Great source of energy*
No cholesterol*
Heart healthy*
Increases metabolism to burn fat while building muscle*
Easy to digest and creates a feeling of satiety (fullness)*
Promotes healthy kidney and liver functions*
A green, hypoallergenic food*
Improves mental clarity*
Helps relieve candida
This is why this protein powder is my favorite! These butter cup bites are so easy to make and only took me 10 minutes to prepare them.  For the chocolate mold, I buy mine from Amazon.  I find they have the best selection and they are really inexpensive.
Share these Sunwarrior Butter Cup Bites and you will be very popular, trust me… that's if you don't eat them all lol!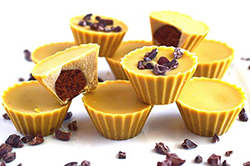 Sunwarrior Butter Cup Bites
Mini protein packed butter cup bites with chocolate center.
Instructions
For the White Chocolate
Melt the Cacao butter double boiler method on the lowest level of heat stirring continuously.

Transfer to a bowl and add the liquid sweetener whisking to combine.

Add the rest of the ingredients in portions whisking continuously so all lumps are smooth.

Place chocolate mold on top of a wooden cutting board or something sturdy for easy transferring later.

Pour mixture into a measuring cup so it is easy to pour.

Pour mixture into the molds, filling each butter cup 3/4 full.
For the Filling
Mix all ingredients together in a small bowl with a fork until smooth.

Roll into balls with your hands the size of a dime.

Drop into the center of each butter cup.
Completion
Fill the rest of the butter cups with the rest of the White Chocolate mixture.

Place the mold in the freezer for 1/2 hour or until completely hard.

Remove, pop out each butter cup and enjoy!