I thought I would start sharing more recipes I make and eat regularly for my work lunches. This Sunflower Seed Pâté has become one of my favorites and go-to raw dishes for the work week. I add it on top of a salad, use it as a dip for veggies and crackers or add it into wraps, like this Nori Roll.
I am planning to share more recipes I make regularly for the work week and share more meal prep ideas. Not everything I eat is chocolate and dessert, although it may seem that way. 😉
It's still snowing here in Edmonton, AB and it's the end of April! We've had 7 months of winter, which is a little too long in my books! I'm ready for summer, or some sort of spring.  My poor dog has been couped up in the house for so long, I just wish I could take him outside for a long walk. Oh well, I'm sure it won't last that much longer.
Let's get to this recipe and why Sunflower Seeds are at the top of my superfood list!
Sunflower Seeds are a great alternative to nuts since they tend to be a slightly better source of vitamin E, zinc, iron and magnesium than almonds.
They are also higher than any other nut or seed products in the antioxidant phytochemical tocopheral, which helps against cardiovascular disease.
Key nutrients: protein, fiber, calcium, iron, magnesium, phosphorus, potassium, sodium, zinc, copper, manganese, selenium, vitamin C, vitamin B's, folate, vitamin A, and vitamin E.
They are high in polyunsaturated fatty acids and contain essential and non essential amino acids.
Plus, they taste amazing and product a wonderful texture for this dish.
Try this recipe, I know you will love it!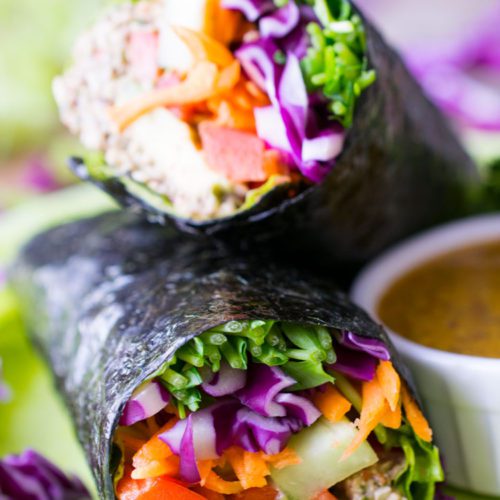 Sunflower Seed Pâté Nori Rolls with Spicy Mustard Dip
Ingredients
Sunflower Seed Pâté:
1

cup

raw sunflower seeds

1

large handful

fresh dill

2

celery stalks

, chopped

¼

red onion

, chopped

4

sprigs

green onion

, chopped

2

tablespoons

parsley

, chopped

1

tablespoon

coconut nectar

, or any liquid sweetener

Juice from 1 lemon

1

teaspoon

dulse flakes

(optional)

½

teaspoon

garlic powder

Dash of pepper
Spicy Mustard Dressing:
1

tablespoon

of your favorite mustard

(I use raw soaked mustard seeds)

1

tablespoon

coconut nectar

, or any liquid sweetener

1

tablespoon

apple cider vinegar

1/

teaspoon

paprika

Dash of cayenne
Nori Rolls:
¼

large cucumber

, julienned

1

carrot

, shredded

1

handful

purple cabbage

, chopped

½

avocado

, sliced

4

leaves

of lettuce
Instructions
Sunflower Seed Pâté:
Place all ingredients except green onion and parsley into a food processor and process until combined and texture is like a pate. You don't want to leave the mixture too chunky because you are going to spread it onto nori sheets.

Place pate into a bowl, add green onion and parsley and stir carefully until combined.
Spicy Mustard Dip:
Place all ingredients into a small bowl and whisk until combined.
Nori Rolls:
Place nori sheet onto a bamboo mat, spread sunflower seed pate, and add all the veggies. You can add a lot to make a big wrap (like my picture above), or add less to make sushi rolls.

Using the bamboo mat, carefully roll the nori roll and cut into however many servings you wish.

Don't forget to dip them in the spicy mustard, sooo good!
Notes
Refrigerate for up to 3 days. Use the extra as a dip, or on salad!