I am so excited for this post! It's no secret I love raw desserts and so a while back, I stumbled across an amazing raw desserts "cookbook" called Sweetly Raw Desserts created by the beautiful Heather Pace from Sweetly Raw.
Heather is a classically trained chef turned raw dessert chef and a certified yoga instructor. She lives in beautiful Victoria, British Columbia, Canada and sells her treats at Farmer's Markets. I was so lucky to be visiting my sister in Victoria the weekend she was at the Moss Street Market, so naturally I had to go and meet her in person and try her famous snickers bars! And oh my goodness, they were amazing!! If you live in or visiting the area, you have to go check out her booth!
This book is one of my favorites! Heather has put in a lot of work including details on how to prepare and organize your raw dessert kitchen with equipment, storage instructions, and so many how to's! It's rare to find a cookbook these days with so much information. And not mention the amazing recipes! Her pictures will make you want to dive right in!
I was so happy to share a recipe from her book; this Strawberry Lemonade Parfait is perfect for summer. The flavors are so light and refreshing, and who doesn't love a parfait? They are super fun and easy to make! I couldn't stop eating these, my neighbor had to come over and help me!
I love making parfaits because you can be really creative. In this recipe I decided to add diced strawberries and granola, but there are so many options. Shredded coconut, pecans and/or walnuts would also pair really nice with this. Try it, you'll love it!
Here are just a few reasons to purchase her book:
With over 90+ recipes – including parfaits, puddings, pies, cake, chocolate and more
Extended instructions on how to create a well-stocked raw dessert kitchen, including necessary ingredients and tools
Multiple step-by-step techniques describing baking basics, including the proper way to melt chocolate, frost a cake or even open a coconut
Mouth-watering photos that are both instructional and appealing
You can purchase her book on amazon here, or through her blog here. You have to check it out, anyone can make these recipes, and don't forget they are made with real, healthy ingredients!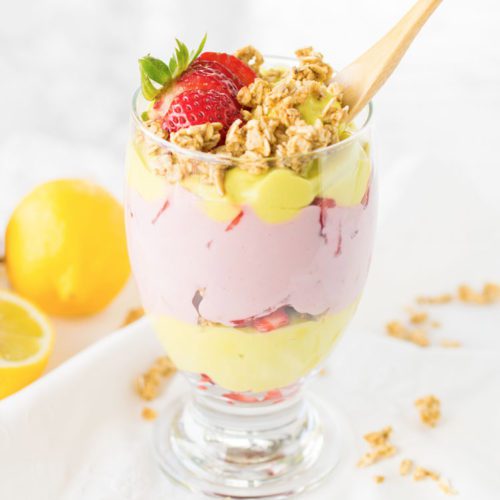 Strawberry Lemonade Parfait
Light, refreshing parfait made with lemon and strawberry pudding perfect for summer! Raw, vegan and healthy!
Ingredients
Lemon Pudding
1/2

cup

+ 1 tablespoon lemon juice

1/2

cup

mashed avocado

3

tablespoons

agave or coconut nectar

2

tablespoons

melted coconut butter

1

teaspoon

packed lemon zest

2

pinches

turmeric

for color
For Assembly
1

cups

diced strawberries

for garnish
Instructions
Lemon Pudding
Blend the lemon juice, avocado, and nectar until smooth in a blender.

Add the coconut butter, lemon zest, stevia and turmeric and blend again.

Chill the pudding in the fridge for at least 4 hours.
Strawberry Pudding
Blend all ingredients except the coconut oil until smooth and creamy.

Add the oil and blend again.

Chill pudding in the fridge for at least 4 hours.
Assembly
Layer the lemon and strawberry pudding in a parfait glass with your favorite toppings.