I recently found a new love for making bars to snack on at work. I usually make the same ones all the time so I wanted to switch it up and make a satisfying seasonal breakfast bar! These turned out amazing; I know I probably say that about every recipe, but really, these are so good, and super easy to make. Pumpkins are everywhere at the moment; but we can also add only pumpkin seeds and pumpkin spice into a recipe to make it "fall" like.
Usually raw, vegan bars are tricky, especially when it comes to staying formed and not becoming too chewy when out of the fridge too long, but not these! These bars stay nice and put in their bar shape and the texture remains. I've eaten these all week at work and even have extra for this week!
Who knew coconut would pair so well with pumpkin spice! I've also been kind of obsessed with coconut lately, garnishing all my smoothies and recipes with it; definitely not a bad habit to have. 🙂 These bars fill me up and add just the right amount of fuel to my morning!
Make these super easy breakfast bars and have breakfast for two, all week long!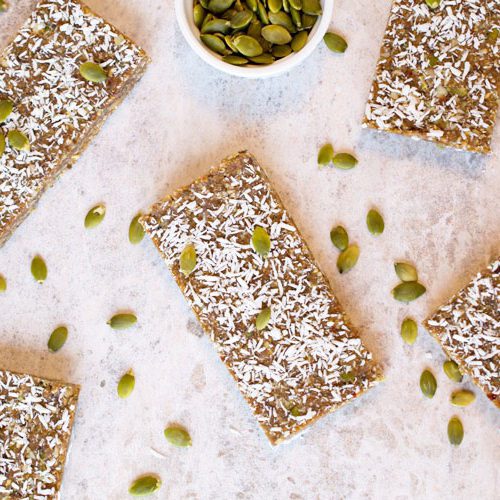 Pumpkin Spice & Coconut Breakfast Bars
Raw, vegan, breakfast bars made with pumpkin spice and coconut.
Instructions
Soak dates for 15 minutes and remove pits.

Place walnuts and oats in the food processor and pulse until combined.

Add dates to the food processor and pulse until combined.

Add the rest of the ingredients into the food processor and process until a dough forms.

Line a 9 x 9 square baking pan with parchment paper or saran wrap.

Place mixture into the pan pressing firmly until even.

Place the rest of the dried coconut on top of the bar mixture spreading evenly on top for a garnish.

Place pan into the freezer for set for a minimum of 1 hour.

Remove pan from freezer, remove bar mixture and cut into bars.

Keep in fridge or freezer until eaten.
Notes
Substitute walnuts for almonds, oats for buckwheat, maple syrup for any other liquid sweetener, or cranberries for raisins.