Hey everyone, I'm going to share the most awesome Pink Dream Smoothie recipe with you! We were instructed to create our own smoothie recipe for the Matthew Kenney Fundamentals of Raw Cuisine Course using the information we learned on flavor balancing.  I was in a colorful mood and decided to create this Pink Dream Smoothie!
I am not biased, but… this is probably one of the best smoothies I have ever tasted! The Coconut Butter and almond milk add just the right amount of creaminess and along with the beet juice creates this drooling pink color.
This is a great way of adding beets to your diet without feeling like you are drinking a vegetable smoothie.  My recipe calls for beet juice but don't fret, you if you do not have a juicer there is always an alternative: place 1/2 of a chopped beet into your blender with 1/3 cup of filtered water and blend until smooth.  Strain into a bowl using a fine mesh strainer or cheese cloth and voilà, you've just created beet juice to add to your smoothie!
Beets are an excellent liver cleanser and blood builder! They contain a high amount of iron and copper which helps make the iron more available to the body.  Other reasons beets are so amazing:
Contain anti-cancer properties due to the amino acid betaine present
Contain choline which cleanses the liver
Rich source of Vitamin C
Help prevent and decrease varicose veins
Enjoy this Pink Dream Smoothie as much as I did and HAPPY MONDAY! 🙂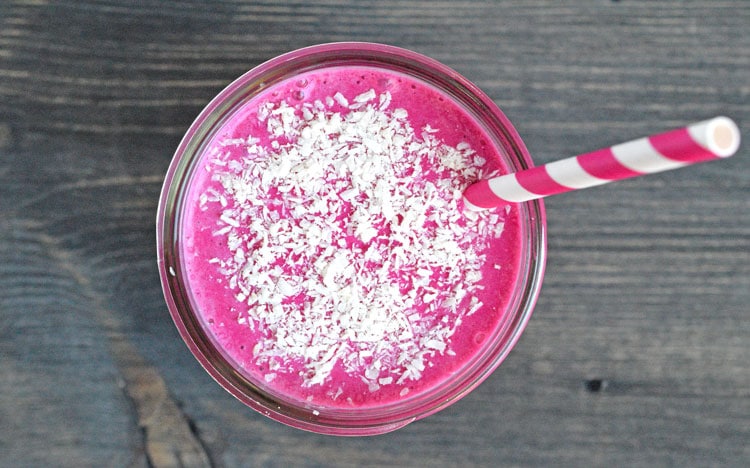 Pink Dream Smoothie
Delicious sweet, creamy smoothie with added beet juice.
Instructions
Place all ingredients except shredded coconut into the blender and blend until smooth.

Garnish with shredded coconut and enjoy!
Notes
If you don't have a juicer simply place 1/2 of a chopped raw beet with 1/3 cup of filtered water into your blender and blend until smooth. Strain into a bowl through a fine mesh strainer or cheesecloth.