These raw, vegan, gluten-free oat fudge bars with caramel drizzle are so yummy and easy to make! If you are craving a healthy, sweet snack then these are for you! It's Good Friday and I am in the "stay in your pajamas and make desserts all day" kind of mood! If that is even a mood… in my world it is, lol! I like chocolate, A LOT… who doesn't? I wanted to make a dessert that could also pass as a snack, so; I came up with these!
I always use gluten-free rolled oats in my recipes. Oats are one of the world's healthiest super foods, why? Because they lower cholesterol and stabilize blood sugar; just two of the many health benefits of this wonder grain. Some might argue that gluten-free oats are also contaminated with wheat but I have never had a problem with using the Only Oats brand. You can also substitute the oats with gluten-free buckwheat if you are celiac and do not include even gluten-free oats in your diet.
Making raw chocolate is definitely my favorite; probably because it is soooo quick and easy!! When making raw chocolate you can use either coconut oil or raw cacao butter. Both will result in a different consistency: cacao butter will make the chocolate softer and creamier, and coconut oil will cause the chocolate to turn out firmer and have a strong coconut oil taste. Cacao butter is the cold-pressed oil of the cacao bean and production does not go over 46 degrees Celsius keeping it raw. Both are excellent but I prefer to use cacao butter.
I used Lucuma powder in the caramel drizzle. Lucuma powder is made from the fruit of the Pouteria lucuma tree. and contains 14 essential trace elements, including a considerable amount of potassium, sodium, calcium, magnesium and phosphorus. See… yummy food can be healthy people!!!
Well… Happy Easter and enjoy this amazing recipe!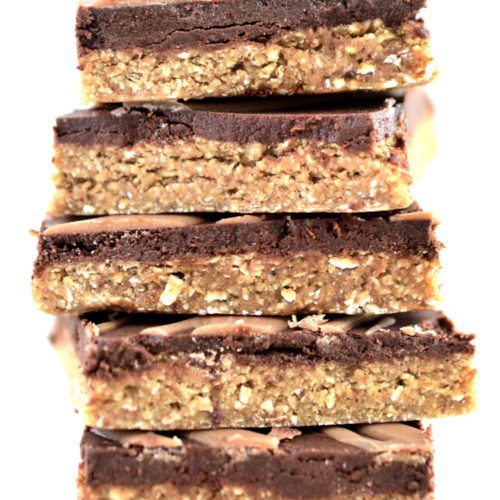 Oat Fudge Bars with Caramel Drizzle
Raw, gluten free, vegan oat fudge bars with caramel drizzle make a healthy snack or dessert.
Instructions
For the Base
Place all ingredients into a food process and process until a dough forms.

Line a 9" x 9" square baking pan with parchment paper.

Firmly place dough in the pan pressing with your hands to smooth it out to all the edges.

Place the pan in the freezer.
For the Chocolate layer
Melt the Cacao butter double boiler method on your stove using the lowest temperature stirring constantly.

Combine all ingredients in a bowl and whisk until smooth.

Take the pan out of the freezer, pour the chocolate on top and spread evenly.

Put the pan back into the freezer for 10 minutes.
For the Caramel Drizzle
Combine ingredients in a small bowl and whisk until smooth.

Take the pan out of the freezer, make sure the chocolate has started to harden before pouring on the caramel.

Pour the caramel mixture into a measuring cup and slowly pour over top of the chocolate making any design you wish.

Put the pan back into the freezer for minimum 1/2 hour.

Take the pan out of the freezer, cut into squares and ENJOY!
Notes
You can substitute with any raw, liquid sweetener.