I promised in my last post to share more recipes I make for work lunches, so, here is a mid-morning snack I make almost weekly. These energy bites are packed with nutritious ingredients such as dates, oats, and superfoods to give you a boost of energy throughout the day!
Energy bites/bars are so easy to make because they do not need baking or prepping, throw all the ingredients in a food processor, form into balls or bars, roll in your favorite superfood powder and voilà! You have nutritious, sugar-free, guilt-free snacks ready for the entire week.
I think everyone is aware of my carob obsession, if you do not already know, carob is super nutritious and a great alternative to chocolate since the texture, taste and smell is very similar but without the caffeine. Don't get me wrong, I still LOVE my chocolate but this is a great alternative for people allerigic to chocolate or whom just need a break from it (if there is such a thing). What is Carob you might ask?
Carob comes from a pod of a tree of the same name, which is native to the Mediterranean. The ripe pods contain a sweet pulp that is dried, roasted, and then ground into a powder. That powder is called carob powder and is sold as is or made into chocolate-like chips.

Both the powder and chips are similar to cocoa powder and chocolate chips in color, but their flavor is unique. Carob is less bitter than chocolate and has a roasted, naturally sweet flavor (carob chips aren't made with added sugar for this reason). Carob also happens to be caffeine-free and high in fiber.
Health Benefits of Raw Carob Powder:
Contains polyphenols which help with blood cholesterol levels
Natural antioxidant protecting your body from free radicals
Good source of calcium and selenium
Improves digestion
Carob tannins have Gallic acid. Gallic acid is an analgesic, anti allergic and antibacterial. It is also an antiviral and antiseptic
Another star in this recipe are a wonderful fruit called Dates! Here is why I love them so much:
High in soluble fiber to help with digestion
An excellent source of iron to help combat anemia
Filled with natural sugars including fructose, sucrose, and glucose which help give that energy boost
High in potassium
I have been so busy preparing for my upcoming trip; I will be visiting Bali for a few weeks at the end of the month.  I have wanted to visit Bali for a long time now, even since before I had an interest in raw food.  This trip is a big deal for me as I have not traveled outside North America or been on a flight longer than 6 hours; I'm nervous, anxious and excited all at the same time!
My plans are to tour the Spirulina Farm, Organic Cacao Farm, take part in some workshops, eat lots of raw and vegan food, do a juice cleanse, take lots of photos and of course get in some beach time.  I am most excited to meet up with some like-minded beautiful souls whom I have met over social media.
I will be blogging about my entire trip, so stay tuned for updates on my adventures in Bali!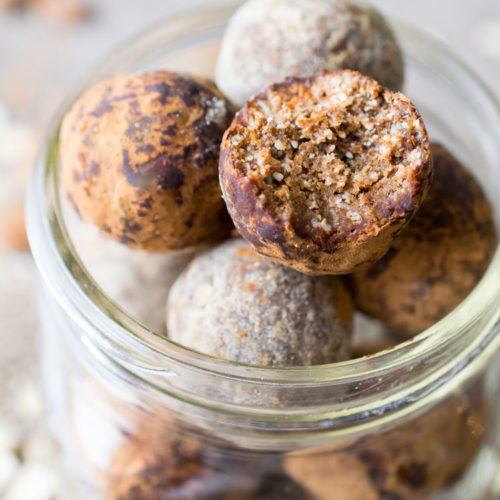 Oat Carob Energy Bites
Raw, vegan and gluten-free snacks that will give you a boost of energy to get you through your day.

Instructions
Place all ingredients except coconut oil in a food processor and process for a couple of minutes, add coconut oil at the end and process until combined.

Mixture will be loose but will stick together once pressed firmly into your hand. When the mixture holds together in your hand, then stop processing.

Do not over process or the almonds will release too much oil.

Place mixture in a large bowl.

Take a small ice cream scoop and scoop mixture into your hands pressing firmly and shape into a ball, using gloves makes the process less messy.

Roll energy bite in your choice of superfood powder (I used carob and lucuma), and place onto a parchment lined tray.

Once finished rolling the batch, place in freezer for 30 minutes to set.
Notes
Store in fridge for 1 week or freezer for longer.