I made this chia seed pudding a while ago and it was soooo amazing that I had to make it again for the blog! Lucuma powder is a staple in my superfood supply and I use it quite often. The lucuma is a subtropical fruit native to the Andean valleys and produced in Peru and Ecuador; popular in raw desserts and smoothies, this sweet, creamy and maple tasting powder can also be used as a sweetener replacement.
Lucuma is full of health and nutritional benefits:
Contains 14 essential trace elements including high amounts of iron, calcium and phosphorous
Low on the glycemic index
High in fiber, B Vitamins and Beta Carotene (an antioxidant to help combat free radicals)
Read more about health benefits of Lucuma here.
Let's not forget about the power of chia seeds! I try to add chia seeds in my diet wherever I can because of their super high content of omega 3's! They are such a powerhouse of nutrition, only 1 ounce contains the following:
Dietary fiber (11g – 42% recommended daily value)
Protein (4.4g – 9% RDV)
Omega-3 fatty acids (4915 mg)
Omega-6 fatty acids (1620 mg)
Calcium (77 mg – 18% RDV)
Copper (0.1 mg – 3% RDV)
Phosphorus (265 mg – 27% RDV)
Potassium (44.8 mg – 1% RDV)
Zinc (1.0 mg – 7% RDV)
Read more about health benefits of Chia Seeds here.
I used blueberries for the compote recipe but you can use any berry. The Berry compote flavor pairs so well with the Lucuma chia pudding and melts in your mouth! I topped it off with some sprouted buckwheaties and blueberries but crushed pecans or walnuts would also be really nice! This recipe is definitely of my favorites! ENJOY! 🙂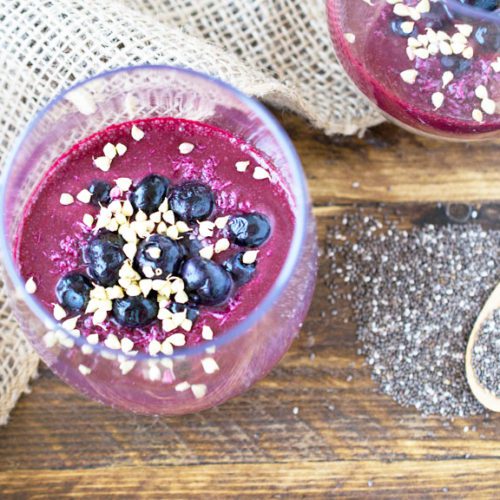 Lucuma Chia Seed Pudding with Blueberry Compote
Caramel, Maple chia seed pudding topped with blueberry goodness!
Ingredients
Blueberry Compote
1

cup

fresh blueberries

3

dates

soaked and pitted

1

tablespoon

lemon juice

1

tablespoon

coconut oil

melted
Instructions
Chia Seed Pudding
Place chia seeds in a medium size bowl and set aside.

Blend dates, lucuma powder, almond milk, vanilla, cinnamon and salt in a high speed blender until smooth.

Pour mixture over chia seeds, whisk well until combined.

Place uncovered in the fridge overnight or for a few hours.
Blueberry Compote
Blend all ingredients except coconut oil in a high speed blender until smooth.

Pour melted coconut oil in blender while on low speed to emulsify.

Place in a glass container and set in fridge overnight or for 1 hour (optional).

Remove chia seed pudding and compote from fridge.

Layer pudding and compote in a parfait glass and top with your choice of garnish.

Enjoy!
Notes
Substitute dates for any liquid sweetener, almond milk for any non-dairy milk and blueberries for any berry.
Soak dates until soft. I soak mine in warm water for 30 minutes.