Are you stuck on how to make healthy nutrition packed snacks for the week? Well, I have you covered! These Goji Almond Energy Bites take only 15 minutes to makes and all you need is your hands and a food processor.
Did I mention, these energy bites are packed full of nutrition and energizing ingredients to get you through your day? The star ingredient is Goji Berries. I find Goji Berries to be too underrated. Did you know that just 1/4 cup of Goji Berries contains:
15% RDI Iron

180% RDI Vitamin A 

Packed full of Vitamin C, Fiber and Antioxidants 
These energy bites are vegan, sugar-free, raw, and gluten-free. They are flavorful, soft and crunchy.
Be creative with the coating; I chose to coat them in raw carob powder and coconut, but you can also use mesquite, cacao powder, goji berry powder, crushed almonds or even crushed goji berries !
I put the recipe down below, but make sure to watch the video so you can see how easy they are to make!
And please don't forget to subscribe! 🙂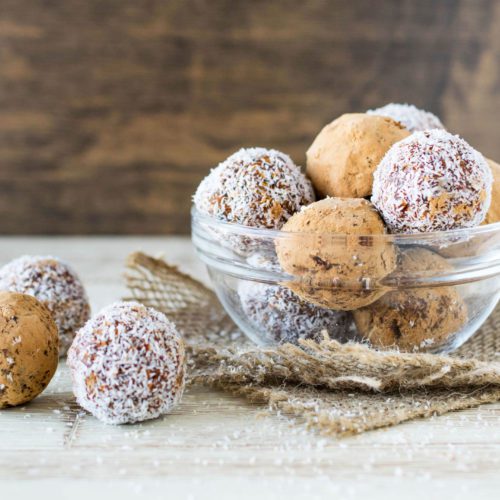 Goji Almond Energy Bites
These Goji Almond Energy Bites are raw, vegan, gluten-free and super flavorful!
Instructions
Process almonds, coconut, carob powder, cinnamon and salt in a food processor for about 10 to 15 seconds until you form a flour consistency.

Add the rest of the ingredients and process for another 10 to 15 seconds until mixture forms a dough. It will be very sticky but should hold together.

Transfer dough into a bowl.

Take approx. 1 tablespoon of dough and roll in your hands to form a bal

Coat Energy bites in raw carob powder and dried coconut.

Store in a glass container in the fridge.
Notes
Will keep in the fridge for 1 week.