It's strawberry season!! YAY, so excited! When berry season arrives that can only mean one thing… SUMMER IS COMING! If you live in a winter city like me, you know how exciting this is!! It also means I can take my puppy out for long walks and throw the ball at the park; he hates the winter as much as I do. I was at the grocery store on Saturday and they had organic strawberries on sale, as I picked some up I started dreaming about all the recipes I could make with them.
I love Chia Seed pudding and eat it all the time, but honestly I get bored with one recipe really fast. So I thought I would add a little french vanilla twist by adding some Coconut Milk French Vanilla Creamer. Chia seed pudding is probably one of the easiest breakfast dishes to make. The reason they work so well as pudding is because they can absorb up to 27 times their water weight forming a hydrogel capsule.
Mix Chia seeds with coconut milk along with your choice of sweetener and flavoring, and set in the refrigerator overnight. In the morning, just cut up some fruit and voilà, you have a healthy protein packed breakfast with very little effort or prep. There are so many variations you can use to make this recipe. Chocolate Chia seed pudding is made by adding raw cacao powder, or make a parfait by layering with homemade granola. Also, be creative with added fruits; Kiwi, bananas, raspberries, blackberries, pineapple… you get the picture!
Chia seeds have become so popular because of their amazing nutritional benefits. Chia seeds originated from Mexico, the Aztecs used them as currency and said one tablespoon could sustain them with energy for 24 hours! Just one ounce of Chia seeds contain:
11 grams of fiber
4 grams of protein along with balanced amino acids
5 grams of Omega 3 fatty acids
18% RDA Calcium
30% RDA Manganese
30% RDA Magnesium
27% RDA Phosphorous
They are also a natural cure for diabetes, and a high source of antioxidants. I don't know about you, but if you are not already including these in your diet, I would start ASAP 🙂 Well… enjoy this recipe as much as I did, have a wonderful day!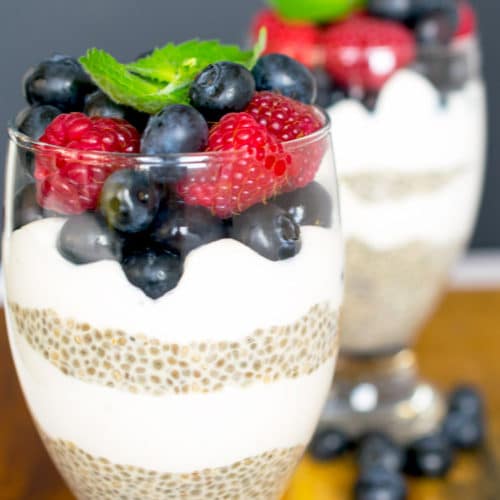 French Vanilla Chia Seed Pudding
Chia Seed pudding with French Vanilla Creamer
Instructions
Add all ingredients to a bowl and whisk until combined.

Cover and place in the refrigerator overnight.

In the morning, transfer to a serving dish with your garnish of choice and enjoy!
Notes
Layer with any type of fruit and/or homemade granola!