Festive Peppermint Cookies, raw, vegan and gluten-free these are perfect for any holiday party!
I hope everyone had a great holiday, this recipe is a little late, but hey, it's still technically the "holidays". I made these vegan, no-bake Peppermint Christmas Cookies to bring to a Christmas dinner over at a friend's house, along with some other deserts.
I'm not a big fan of Christmas shhh… I think it has a lot do with the mass commercialism, crowds of people and chaos that comes along with it. Or it could also be that it's my birthday and I'm just bitter that I never get to celebrate because it's overshadowed by Christmas every year, haha!
One of my favorite flavor combinations is chocolate and mint, so I decided to make a peppermint chocolate cookie. I wanted to decorate it with festive flair so added beet powder and Spirulina to add red and green colors. It's amazing what you can do with natural food colorings.
I used a mini brownie silicone mold to shape the cookies; you can get one from amazon here: [widgets_on_pages id="Amazon Widget on post"]
These are really easy and fun to make! Bring these to any holiday party and you are sure to impress.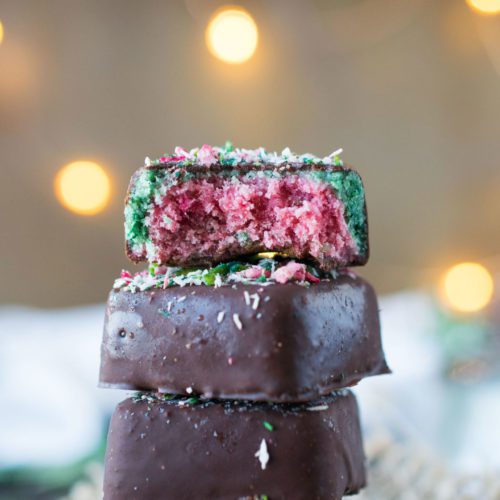 Festive Peppermint Cookies
Raw, Vegan and gluten free peppermint cookies with a fluffy coconut red and green center.
Instructions
Combine all dry ingredients including coconut pulp in a bowl.

Mix cacao butter, coconut nectar, peppermint essential oil and stevia in a separate bowl.

Pour wet ingredients into dry ingredients and mix with your hands until combined.

Separate coconut mixture into two small size bowls, add beet powder to one and spirulina to another mixing well until colors are evenly incorporated.

Press both mixtures firmly into a silicone mold (like the one shown above), alternating layers to create a marble effect.

Set in the freezer while melting the chocolate.

Remove cookies from freezer, remove from mold and dip into a bowl of melted chocolate until evenly covered. Option to garnish with shredded coconut.

Place cookies onto a tray (i use a cutting board) lined with parchment paper and set in the freezer.
Notes
Cookies will last in the freezer for 1 month or fridge for one week. 
By blending shredded coconut and water you just made coconut milk! Use this in place of dairy for cereal, granola, oatmeal or baking. 
* pay attention to the cacao butter used in the recipe; this is used as a binder to hold the cookie together. If you think you require more, then melt some more down and add a little bit at a time. The mixture should be wet and press easily into the mold.*