I recently moved and this raw, vegan Double Chocolate Fudge Cake was the first dish I made in the new kitchen. This cake is a combination and modification of two recipe components in my online Raw Desserts Chef Certification Course. 
I love how recipes are so versatile and you can switch them up and make something new! The crust is modified from an Ice Cream Cake (yes, all raw and vegan) I teach in my online course.
And the filling is a modified chocolate truffle recipe from my online course. I topped it off with a double chocolate frosting I had leftover from a private training I recently did.
This cake is raw, vegan, gluten-free and packed full of nutrition. Raw cacao contains a lot of healing nutrients such as magnesium and iron.
Here are just some health benefits of this wonderful superfood called Cacao:
Improves Mood: Cacao contains anandamide – known as the bliss molecule, which creates a feeling of euphoria.
Aphrodisiac: Cacao contains phenethylamine, which triggers the release of endorphins and pleasurable opium-like neurochemicals. These often release naturally when we fall in love and during sexual activity
Prevents Cardiovascular Disease: Flavanols an anti-inflammatory and heart protective antioxidant found in raw cacao may protect against cardiovascular disease, reduce the risk of stroke, and help improve blood circulation.
Prevents aging: Polyphenol antioxidants found in cacao belong to the same group of antioxidants as green tea and red wine. These anthocyanins (found in dark-colored fruits) and catechins (found in green tea) protect our cells from premature oxidation or destruction and can keep us looking and feeling younger longer.
Combat Fatigue: With one of the highest concentrations of magnesium found in this natural food source. Magnesium also helps to protect against osteoporosis, reduces type II diabetes, and lowers blood pressure.
Healthy fats: Your body needs fat contrary to what some health practitioners preach. Fats are the helpers that create chemical reactions for: growth, immune function, and metabolic function. Healthy fats found in raw cacao are similar to the monounsaturated fat found in olive oil.
Read more: here
See, as far as I'm concerned, the health benefits are FAR way too good not to consume raw cacao!
Enjoy this raw ,vegan Double Chocolate Fudge Cake and drop me a comment to let me know how you liked it!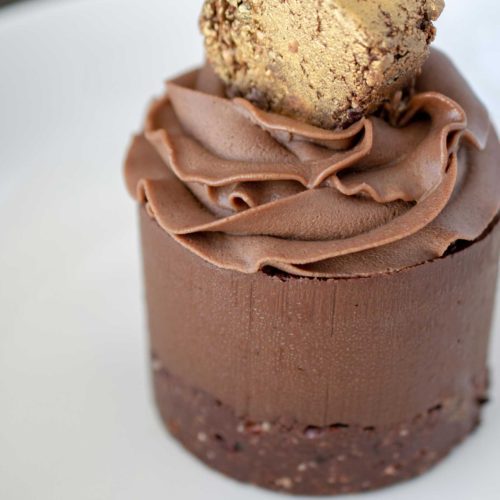 Double Chocolate Fudge Cake
Raw, Vegan, Gluten-Free Double Chocolate Fudge Cake.
Equipment
Blender

Food Processor

3 @ 2" chef rings or 1 @ 4" spring form pan
Ingredients
Chocolate Cake Crust
3/4

cup

almonds

soaked and dehydrated

1/4 cup

+ 2 tbsp

desiccated coconut

3

tbsp

oat flour

1/4 cup

+ 2 tbsp

coconut sugar

1/4 cup

+ 2 tbsp

cacao powder

1/8

tsp

himalayan salt

3/4

cup

dates

soaked and pitted

3

tbsp

cacao butter

melted

1

tbps

tamari

1

tsp

vanilla extract

preferably alcohol free

1/4 cup

+ 2 tbsp

cacao nibs
Double Chocolate Fudge Filling
1 1/2

cups

cacao powder

1

cup

coconut nectar

or maple syrup

1/4

cup

almond butter

raw or roasted

1/4

cup

coconut sugar

1

tsp

vanilla extract

preferably alcohol free

1/8

tsp

himalayan salt

100

g

cacao butter

melted

1/2

cup

coconut oil

melted

1/4

cup

almond milk

at room temperature
Instructions
Chocolate Cake Crust
Process all dry ingredients except cacao nibs in a food processor until batter forms a flour.

Add rest of ingredients, except cacao nibs, and process until batter starts sticking
together.

Add cacao nibs and pulse until combined (cacao nibs stay chunky for texture).

Press cake batter into the bottom of three 2" chef rings on a lined tray OR the bottom of a 4" springform pan.

Set in fridge while making truffle filling.
Double Chocolate Fudge Filling
Blend all ingredients in a high-speed blender except coconut oil, cacao butter and almond milk until smooth.

Add remaining ingredients slowly to the blender while it's running on low and
blend until incorporated. Be careful not to over blend or the oils will separate. 

Pour into ring molds or springform pan, filling up to the top and pat on the counter to remove air bubbles.

Set in freezer overnight.

Remove from freezer, let thaw for 15 to 30 minutes and remove from forms. Decorate with cacao nibs, cacao powder and or chocolate sauce.