Yes!! This Cookie Dough smoothie is raw, vegan and gluten free! This is the creamiest, satisfying mock-milkshake you will ever taste!
This is my go to for satisfying my sweet tooth! Not only does it fill me up, but it is full of power packed nutrients to feed my body! I named it Cookie Dough Smoothie because the texture resembles crunchy, vanilla, chocolatey goodness! It contains Maca Root Powder which is full of B Vitamins, minerals, balances hormones, increases fertility and promotes sexual function in both men and women… wow! Raw Cacao nibs are a source of magnesium and iron, and again I use my favorite protein powder; Sunwarrior Warrior Blend Vanilla! I add coconut sweetener because it is the lowest on the glycemic index and gives it a full flavor without going overboard on the sweet factor.
You can also make it very chocolatey by adding Raw Cacao Powder instead of Raw Carob Powder.  I choose Raw Carob Powder when I want to avoid any extra unneeded caffeine.  Toppings are a must for this smoothie! I always switch between crushed walnuts and pecans and of course have to add Raw Cacao Nibs on top!
[widgets_on_pages id="Blog Posts"]
Try this recipe and you'll see you won't ever want to drink a milkshake again!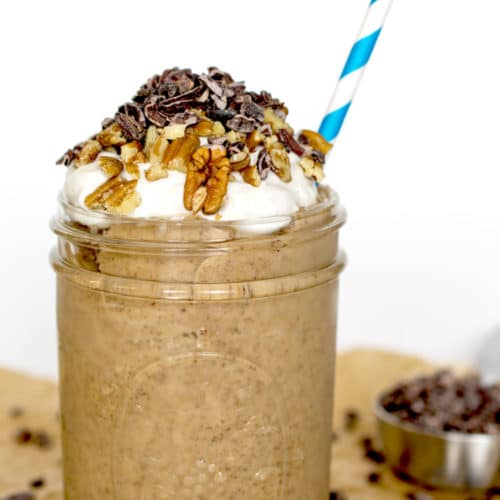 Cookie Dough Smoothie
Better than a Milkshake!
Ingredients
For the Toppings
2

tablespoons

crushed raw pecans or raw walnuts

1

teaspoon

raw cacao nibs

dash of cinnamon
Instructions
Add all ingredients listed in order into your high speed blender and blend until smooth. Crush the raw pecans or walnuts, sprinkle on top along with raw cacao nibs and a dash of cinnamon.