The weather has been so nice in Edmonton, Alberta; sunny and warm almost every day!  I told myself at the beginning of the summer I would make more of an effort to spend more time outside.  I have taken my dog for a long walk in the river valley almost every day and we have so much fun at the park working out together!  It is the greatest workout; I throw the ball and while he is running to catch it I will do lunges, burpees, mountain climbers… etc…  It's perfect; an excellent start to the summer!
Last weekend I made the perfect summer treat!  Jicama, Jicama, Jicama!  Say that really fast, not easy!  I was going to make raw Jicama fries but I was really craving something baked so I came up with this delicious mouth-watering snack!  This is the first non-raw recipe I am posting on my blog; as I mention on my "ME" page, I am not 100% raw and make some pretty yummy cooked plant-based recipes that I cannot keep from all of you!
Jicama is a starchy tuber root vegetable from the bean plant family and is also known as yam bean.  It is crispy with a hint of fruit flavor and can be eaten raw or cooked with savory or sweet dishes.  Jicama has a variety of health benefits and is a high source of dietary fiber.
Health benefits of Jicama:
High Vitamin C content: just 100 grams includes 40% of the RDI
High in soluble fiber to help lower cholesterol and stabilize blood sugar levels
Excellent source of iron; one small root contains 22% of the RDI
One medium root contains 989 milligrams of potassium
The cilantro, lime and chipotle pair really nice with this sweet crunchy tuber vegetable and once you dip a fry in the vegan chipotle mayo… wow!  You can also make this recipe raw, I think I will try that next time.  If you have never had Jicama before you will want to peel the outside off like you are peeling bark off a tree with your hands.  Trus me, this is the easiest; I learned the hard way, a peeler will not work.  Well, happy summer and I hope you enjoy this healthy recipe as much as I did!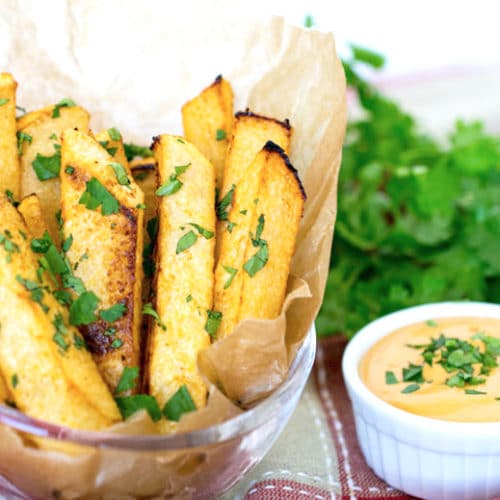 Cilantro-Lime Jicama Fries with Vegan Chipotle Mayo
Baked Jicama Fries seasoned with Cilantro, lime and chipotle, served with chipotle mayo.
Ingredients
Jicama Fries
2

medium Jicama

1

tablespoon

olive oil

1

tablespoon

agave

Juice from 1 lime

1/2

teaspoon

chipotle chili powder

1

handful of Cilantro

chopped
Vegan Chipotle Mayo
1/2

cup

pine nuts

soaked

2

dried chili chipotle peppers

soaked

1

tablespoon

lemon juice

1

piece

of garlic

Water as needed
Instructions
Jicama Fries
Preheat oven to 400 F.

Wash and peel the Jicama and slice into fries.

Mix seasoning together until combined.

Toss Jicama fries and seasoning together in a medium size bowl.

Place on a baking pan lined with foil.

Bake for 30 minutes.

Remove jicama fries from oven and sprinkle with cilantro.
Vegan Chipotle Mayo
Soak pine nuts and chipotle peppers for 1/2 hour.

Place all ingredients in a blender and blend until smooth.
Notes
Jicama peels best if you start it with a peeler and then peel it back like bark off a tree.
Mayo will keep in the fridge in a glass container for 3 days.