You would never guess this marinara sauce is raw, vegan and super healthy when you taste it!  This sauce is super chunky, flavorful and satisfying!  Zucchini noodles are one of my favorite, regular dishes, and I realized I had not posted a marinara sauce recipe for zucchini noodles yet, oh my!  I know what you are thinking; "not another zucchini noodle recipe!"  Well guess what?; this sauce is not only for zucchini noodles, this sauce is also great on pasta, a sandwich or even lettuce wraps!
But… zucchini noodles are awesome! I'm sure most people know how to make zucchini noodles by now, but just in case; you can buy a spiralizer or spirooli almost anywhere these days!  I love this spiralizer; it will spiralize not only zucchini noodles but also sweet potatoes, apples, beets and carrots!
I mentioned there was a special superfood ingredient in this dish!  Well, I was looking for something to add as a garnish but did not want to use a nut cheese so I decided to garnish with hemp hearts, and it worked out perfect!  Hemp hearts (shelled hemp seeds) add texture, contrast and of course added health benefits.
Five Hemp Health Benefits You Didn't Know About
The protein and fiber in hemp combine to slow digestion, which prevents spikes in blood sugar and therefore sustains your body's energy. A diet rich in hemp promotes digestive regularity.
When sprinkled on your cereal or fruit at breakfast, hemp protein and fiber also help aid in satiety, which will prevent you from snacking and keep you fuller longer.
The Omega-3 fatty acids in hemp reduces the risk of cardiovascular disease, lower blood pressure, and may even ward off Alzheimer's disease. Hemp seeds are one of the few Omega-3 sources found in plant.
The Omega-6 fatty acids in hemp stimulate skin and hair growth, maintain bone health, regulate metabolism, and help the brain function.
Hemp seeds contain essential amino acids, which improves muscle control, mental function, and normal body maintenance of cells, muscle, tissues, and organs.
Read more from the source
here.
All this recipe requires is a food processor, it is that easy!  So go ahead and try this flavorful, nutritious, versatile dish asap, I know you will love it!  Happy creating and thanks for reading!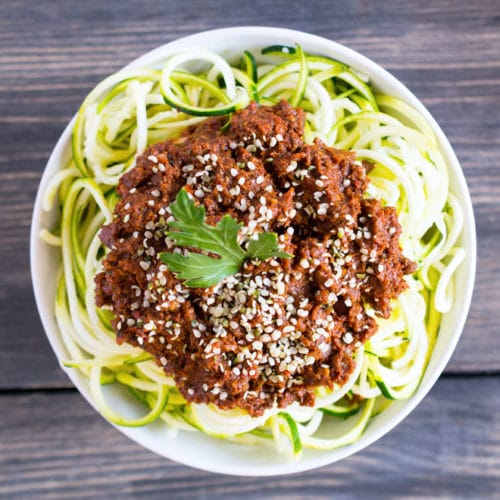 Chunky Heart-Healthy Marinara Sauce for Zoodles
Raw, Vegan and Gluten-Free rich chunky marinara sauce; can use on pasta or zuchinni noodles
Ingredients
Marinara Sauce
1

cup

sun-dried tomatoes

soaked

1

red pepper

5

basil leaves

2

tablespoons

pumpkin seeds

2

tablespoons

extra virgin olive oil

2

tablespoons

hemp seeds

1

tablespoon

brown rice vinegar

1

tablespoon

agave syrup

2

teaspoons

oregano

2

cloves

garlic
Zoodles
2

large green zuchinni spiralized
Instructions
Marinara Sauce
Soak sun-dried tomatoes for 15 minutes to 1 hour, drain and rinse.

Put all ingredients except hemp hearts in a food processor and process until a chunky sauce consistency forms.
Zoodles
To make zuchinni noodles use a spiralizer, spirooli or vegetable peeler to create ribbons.

Mix approximately 2 to 4 tablespoons of marinara sauce with zuchinni noodles, garnish with hemp hearts and enjoy!