It's no secret that I love energy bars; these Chocolate Pumpkin Energy Bars make the perfect snack throughout the day! This has been my go-to recipe lately for work snacks and I keep making them because they are SO good!
This is the first recipe that I have posted in a while… FINALLY! I've been very busy and if you have been following my social media you know that I was just in Bali in for a month. When I arrived back home I knew I had to make a change and do something that I was passionate about. I have a farmers market business on the side called Fig Leaf Foods so I decided to quit my full time job and start the farmers market full time! I'm taking a huge risk but I am super excited and know I will be much happier. If you live in Edmonton, Alberta, Canada come see me at market; I have posted the schedule on my facebook page.
My plan is to also spend more time on my blog, post more recipes, raw food nutritional information and teach raw food classes. I also just signed up for another course which I'm SUPER excited about.
Chef Elaina Love is one of the pioneers in the raw food industry and she created an online and live class school called Pure Joy Planet. In her online school, she has created an Advanced Raw Vegan Culinary Arts Certification course which is perfect for me; I will be able to learn more advanced raw food recipes, including breads, pastries and international cuisine.
The perfect combination of dates and raw cacao in this recipe pack an energy and nutrition punch!
Dates are an excellent source of iron, about 11% of RDI.
Also, an excellent source of potassium. 100 g contains 696 mg or 16% of daily recommended levels of this electrolyte.
Dates are filled with natural sugars including fructose, sucrose, and glucose, providing a natural energy boost!
Raw Cacao is the highest plant-based source of iron known to man, at a whopping 7.3mg per 100g.
Raw cacao is one of the best food sources of magnesium. Magnesium is essential for energy production, for a healthy brain and nervous system, for our muscles and for strong bones and teeth.
This recipe is super easy to make, takes only 10 minutes to prepare and pop in the freezer for a couple of hours. Coating them in chocolate is optional but, of course makes everything better! I love using pumpkin seeds wherever I can as they are a good alternative to using nuts.
I hope you enjoy Chocolate Pumpkin Energy Bars as much as me and get prepared to see a lot more of me in the future! 🙂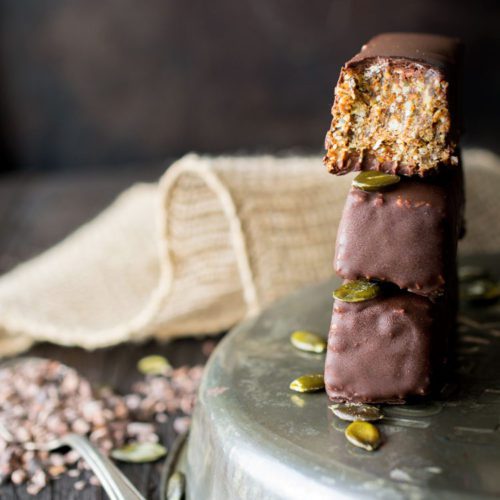 Chocolate Pumpkin Energy Bars:
No-Bake, Vegan, Gluten-Free and packed with energy boosting ingredients!

Instructions
Place all ingredients except dates and coconut oil in the food processor and process until pumpkin seeds are finely ground.

Add dates and process until combined and batter starts sticking together.

Add melted coconut oil and process.

Remove batter and place in a bowl.

Use an 8 x 8 pan or silicone mold to shape bars.

Place in freezer for minimum 2 hours.

Remove from freezer and option to dip in melted dark chocolate.
Notes
Will last in the freezer for 1 month or fridge for 5 days. Tip - I individually wrap them in foil and place in freezer so they are easy to grab for my lunch bag!