There are no words to describe how good these are!  If you are a chocolate lover like me, watch out, you won't stop eating these, but it's okay because these are actually healthy for you!  It's no secret how much I LOVE chocolate; dark, healthy chocolate of course!  I also am in LOVE with Cashew Cream; so, I decided to combine my two loves and voila, these chocolate cashew cream cupcakes were born!
This recipe is super easy and does not take long to make.  These are perfect if you want some kicking around when you have a sweet tooth, or if you want to impress your friends.  These are also kid-friendly because they are not loaded with sugar, and you keep it a secret that they are dairy free and healthy :).
[widgets_on_pages id="Blog Posts"]
I used my silicone cupcake mold which is the best to use for this recipe because they pop out of the mold so easy.  I guess you can say these are kind of like a cheesecake minus the traditional crust and tangy flavor of the cashew cream.  There are so many uses for cashew cream; you can also use it as a dip for fruit, cheesecake base, pour over top of ice cream or even add it to a smoothie (I may have done this once or twice).
I have recently re-photographed and re-vamped this recipe since it is the most popular post on my blog; but I can see why, because they are AMAZING and you should try them for yourself!!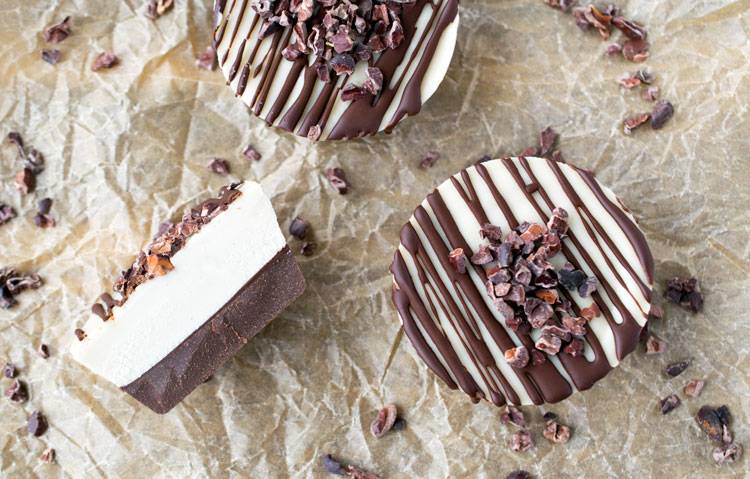 Chocolate Cashew Cream Cupcakes
Raw, Vegan, Gluten-free cupcakes made with a raw chocolate base and cashew cream on top! So good!!
Instructions
Chocolate Base
Melt the raw cacao butter double boiler method.

Combine cacao powder, sweetener and vanilla bean powder in a bowl.

Add the melted cacao butter and whisk until smooth.

Pour chocolate mixture into a funnel or measuring cup and pour into a silicone cupcake mold about 1/2 full.

Place mold into the freezer for 1/2 hour to set.
Cashew Cream
Rinse cashews well, and combine all ingredients in a high speed blender until smooth.

Remove silicone mold from the freezer and pour the cashew cream on top of the set chocolate filling each one full.

Place mold back in freezer overnight or for 4 hours.

Remove from freezer 1/2 hour before serving.
Notes
Keep in the refrigerator for 5 days.
Be creative with your toppings!