Growing up I celebrated my birthday with Dairy Queen ice cream cake, every year. I have yet to indulge in this birthday favorite since eliminating dairy from diet; I was craving some so badly! I decided to make a cake super creamy and rich, and voila, this was the outcome! Probably the best recipe I have ever made (well, I think so because I have such a sweet tooth) and it was also probably the funnest to make.
Starting with a chocolate, date and nut crust, topped with banana, coconut ice cream, topped with almond butter caramel and finally… dark chocolate drizzle! I know a mouthful right?! And don't forget, like all my recipes this is vegan, gluten-free and of course raw!
I know this recipe probably seems really difficult to make but it is all about being organized ahead of time. I made the crust the day before and let it set in the freezer overnight. The next day I soaked the dates, made each layer and again set the cake in the freezer overnight. Then the day arrived… I made the chocolate drizzle and… no I didn't get to eat it yet; come on, I have to photograph it for all of you right!? 🙂 Once I was happy with the photos, it had just thawed the perfect amount to eat, and oh my so crazy good!!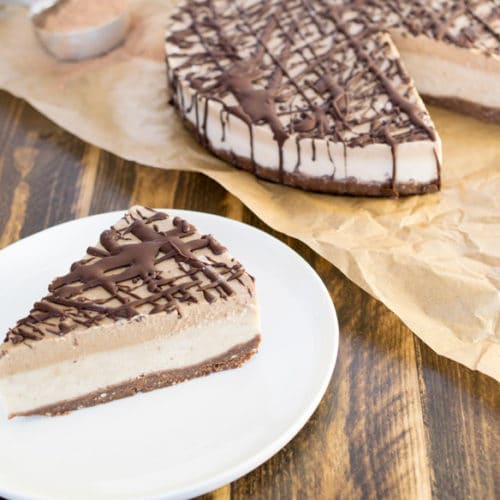 Chocolate Caramel Ice Cream Cake
Raw, Vegan ice cream cake made with a banana layer, caramel layer and topped with Chocolate sauce. This recipe is for an 8" spring form pan.
Ingredients
Caramel Layer
1

very ripe banana

2

cups

dates

pitted

3/4

raw almond butter

1

tablespoon

lucuma powder

water as needed
Chocolate Drizzle
See my Easy Raw Vegan Chocolate Recipe.
Instructions
Crust
Soak dates for a minimum of 15 minutes and remove pits.

Place walnuts in a food processor and process until almost a flour forms, but still chunky. Remove and set aside in a bowl.

Process dates in the food processor until combined.

Add walnuts, buckwheat flour and cacao powder and process until combined.

Add the remaining ingredients and process until a dough forms.

Line the bottom of an 8" spring form pan with parchment paper.

Press dough into the bottom of the spring form pan and place into freezer to set.
Banana Cream Filling
Place all ingredients into a high speed blender and blend until smooth.

Remove spring from pan from freezer and pour banana filling into the pan evenly.

Place pan back into freezer for a minimum of 1/2 hour to set (If you want the caramel layer to set on top evenly).
Caramel Layer
Soak dates for a minimum of 15 minutes and remove pits.

Place all ingredients into a high speed blender and blend until smooth.

Add water as needed while blending.

Remove spring form pan from freezer, pour caramel layer on top, spreading evenly with an offset spatula.

Place cake into freezer and let set for a minimum of 4 hours or overnight.
Chocolate Drizzle
Follow the instructions in my Easy Raw Vegan Chocolate Recipe.

Remove cake from freezer and drizzle chocolate sauce onto cake with a spoon. (this is the fun part!)
Notes
For easier assembly, make the crust the night before.
Soak all dates required for this recipe at once before making the banana cream filling.
You can omit the Mesquite powder in the Banana Cream Layer if not on hand.
Remove from freezer 15 minutes before serving.