I received samples of Sunfood's new Acai Maqui Bowl Mix in exchange for a blog post. Although I received these for free I have not received any monetary compensation and all thoughts are my own.
Sunfood, based out of the U.S. sells Raw, Organic, Non-Gmo Superfoods… right up my alley! When they contacted me and offered to ship some samples to create a recipe I was super excited! I received samples of their new Acai Maqui Bowl Mix which is a premium energizing superfood blend to add into a smoothie bowl. It has everything I love: Acai, Maqui, Blueberry, Red Maca, Chia, Lucuma and Banana. I opted out of creating a smoothie bowl and decided this would make an excellent chia seed pudding, right?
I love that all of Sunfood's products are organic, raw, vegan, gluten-free, and kosher. They have a ton of products to choose from on their site, including raw nuts and seeds and even skin care.
Let's talk about why this chia seed pudding parfait is so amazing for your health! The superfood mix has acai, maqui and blueberry which are all powerhouses in the antioxidant category.
Acai alone has a high ORAC (Oxygen Radical Absorbance Capacity) value of 102,700!
5 Power Health Benefits of Acai:
Immune Booster – acai berries increase the function of immune cells and contain a very high level of Vitamin C.
Energy Booster – Acai berries increase the body's energy levels, as well stamina. They reduce fatigue, improve concentration and relieve exhaustion.
Anti-Aging Properties – Antioxidants present in the acai berries help reverse or slow down aging processes that are caused by oxidative damage to the cells.
Skin Health Benefits – Acai berries increase regeneration processes in the body, not only due to increased levels of vitamin C, but also due to high levels of iron. This means less wrinkles, blemishes and age spots.
Heart Health – Acai berries reduce the risk of Alzheimer's disease and macular degeneration. This means prevention of cardiovascular disease, improvement in eyesight and lots of other anti-aging benefits.
Read more about the health benefits of Acai here.
It's no secret I love chia seed pudding and pairing it with coconut whipped cream is heaven! It's spring here and finally we have access to fresh berries again; I found some really fresh blackberries, blueberries and strawberries and knew they would be excellent for this parfait!
I was also really excited to photograph this recipe because I made a trip to the Blue Jar Antique Mall here in Edmonton and picked up some cool props (most of which you see in this photograph).  I have looked for antique silver tarnished silverware everywhere! This place was a food photographer's dream, I can't wait to go back. Make sure you try this recipe, if you love Chia seed pudding you will love this recipe! And if you've never had Chia pudding, this a good recipe to start with. 🙂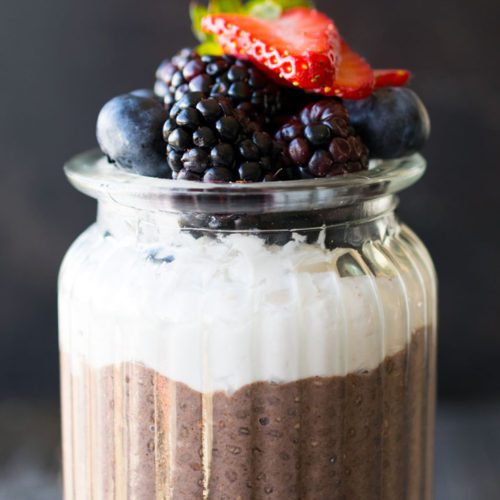 Chia Pudding Parfait with Acai Maqui Superfood Blend
Superfood infused, raw, vegan and gluten free chia seed pudding parfait!

Ingredients
Coconut Whipped Cream:
1

can

Full Fat Premium Coconut Cream

2

tbsps

Agave

or any liquid sweetener

1

teaspoon

Vanilla Bean Powder

or vanilla extract
Instructions
Chia Seed Pudding:
Place all ingredients except chia seeds in a blender and blend until combined.

Place chia seeds in a medium bowl and pour acai maqui mix on top and whisk until combined.

Place in fridge overnight or let sit for 2 hours.
Coconut Whipped Cream:
Place can of coconut cream in the fridge overnight or for 8 hours.

Remove can from fridge and open the bottom side of the can. (Coconut cream should be hard)

Place coconut cream in a medium size bowl with sweetener and vanilla.

Blend with an electric hand mixer on high for a few minutes until a fluffy whipped cream consistency is achieved.

Layer your parfait with fresh berries and enjoy!