Have you ever tried chaga mushroom powder??!! Well, these are more like brownie bites infused with two superfoods: chaga mushroom powder and maca root powder.
I think everyone knows by now how obsessed I am with raw chocolate and desserts, so naturally I would post another chocolate dessert recipe 🙂  I was craving a cookie (truth; I had an abundant supply of almond and oat flour  I needed to use).   I make a lot of almond milk and do not like to waste almond pulp, so I dehydrate it and store to use as almond flour when needed.
Let's talk about these superfoods! Have you ever tried chaga mushroom powder!?? If not, you should start! not only is it a super immune boosting ingredient, it can also act as a cacao substitute.  Chaga mushroom powder is very similar in taste, look and texture to cocoa powder, as pictured below.
Chaga mushroom grows on the trunks of birch trees in the norther hemisphere.  Here are just some benefits of this amazing superfood!
Antixodiant –

Chaga mushrooms have the highest ORAC score (Oxygen Radical Absorbent Capacity) for antioxidants ever recorded in any natural food

– approximately 1,104 units per gram!
Cancer fighting – not only does the betulinic acid found in chaga help to eliminate cancer cells, but this herbal tea can also help to overcome the unpleasant effects of chemotherapy.
Supports Healthy Digestion – With its anti-inflammatory effect, chaga may relieve digestive discomfort and promote better digestive funtction.
Promotes Healthy Skin – Chaga is a natural source of melanin, the pigment that darkens skin and provides protection against solar UV rays. With its anti-inflammatory effects, chaga can help to clear skin conditions like rashes, acne and eczema more quickly. It even protects the firmness and elasticity of skin, delaying the formation of wrinkles.
Read more about the benefits of chaga mushroom here.
What a good way to add Chaga mushroom powder to your diet then adding it into these delicious, chocolaty, brownie bites!  Not only are they super quick and easy to make, they are super healthy!  Enjoy!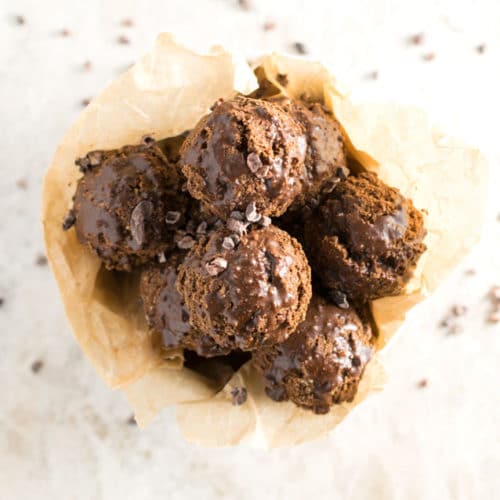 Chaga Maca Cookie Bites
Raw vegan chocolate cookies infused with chaga mushroom powder and maca root. Makes approximately 20 cookies
Instructions
Melt the cacao butter double boiler method.

Combine all dry ingredients in a large mixing bowl and set aside.

Combine all wet ingredients except cacao butter in a small bowl and pour into dry ingredients while mixing until combined.

Slowly pour melted cacao butter in batter while stirring. Batter will be very thick.

Take a small ice cream scooper and scoop onto a baking tray lined with parchment paper.

Put in fridge or freezer to set for 1 hour.

Remove from freezer and store in in the fridge; will last for 5 days in an air tight container in the fridge. Enjoy!
Notes
The easiest way to melt cacao butter is to fill a stainless steel bowl with hot water and place another stainless steel bowl on top with the cacao butter and stir until melted.