I know Chia Pudding has been done so many times, but this recipe will knock your socks off! If you love chocolate and caramel together you will love this pudding recipe made with carob powder instead of cacao making it caffeine free!
My favorite superfood this moment is Mesquite Powder. Ground from the pods of the Peruvian mesquite plant, mesquite powder has a sweet, nutty, molasses, caramel flavor best used in desserts and as a low glycemic natural sweetener. Don't be fooled by the name, it does not have a barbecue flavor. This superfood has so many nutritional benefits to offer.
Health Benefits of Mesquite Powder:
High in protein and fiber, making it a perfect addition to smoothies
Good Source of calcium, magnesium, potassium, iron, zinc and lysine
High in soluble fiber which slows the release of sugar into the blood stream
I can't wait to create a new dessert recipe with mesquite!
Carob powder scores just as high as mesquite on the superfood list. It is widely used as a cacao replacement but also packs a punch in the nutrient department.
Health Benefits of Carob Powder:
Contains polyphenols which help with blood cholesterol levels
Natural antioxidant protecting your body from free radicals
Good source of calcium and selenium
Improves digestion
Carob tannins have Gallic acid. Gallic acid is an analgesic, anti allergic and antibacterial. It is also an antiviral and antiseptic
Wow, pretty amazing! We should all add mesquite and carob into our diets, so why not start with this Chia Pudding recipe, I know you will love it!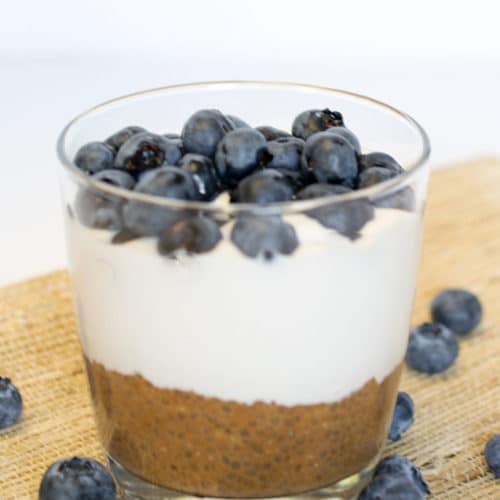 Caramel Carob Chia Pudding with Coconut Cream
Raw, Vegan, Chia Pudding that doesn't suck!
Ingredients
Coconut Cream
1

can of full fat coconut milk

premium

2

tablespoons

maple syrup

1

teaspoon

vanilla extract
Instructions
Chia Pudding
Place all ingredients in a bowl and whisk until combined.

Cover and place in the fridge overnight.
Coconut Cream
Place a can of full fat coconut milk upside down in the fridge for minimum 8 hours.

Remove from fridge, open can right side up and pour out the coconut water.

Place coconut milk in a bowl with maple syrup and vanilla and mix with an electric mixer until coconut cream is light and fluffy.

Layer a parfait glass with pudding and coconut cream and garnish with your choice of berries!
Notes
Pudding and Coconut cream will keep in a glass container in the fridge for 3 days.