I love making these Cacao Power Protein Bars for work and it's no secret that I love chocolate, so what a perfect way to marry the two into a healthy protein power bar to keep me going all morning!  My favorite raw vegan protein powder is Sun Warrior Warrior Blend; it is so smooth, tastes amazing and does not leave my stomach in knots.  You can use any protein powder for the base of this recipe.
Cacao Power Protein Bars are so easy to make because you just set them in the freezer, and last a long time because you can keep them frozen until eaten.  I like using raw almond butter in my protein bars but you can use any nut butter.  For a liquid sweetener my go to is raw coconut nectar, it is the lowest on the glycemic index and full of these health benefits:
Contains 17 Amino Acids
Low in the glycemic index with a rating of only 35
Adds medium-chain fatty acids for readily available energy
Full of minerals, containing 10 x the amount of zinc and 4 x the amount of magnesium as brown sugar
I don't rave about coconut nectar enough, it is truly my favorite!  Learn more about coconut nectar here.
If you've been following my blog you know that I love to add superfoods wherever possible, right?! So, I just had to throw some maca root powder in these bad boys!  I have been using maca root a lot lately to help balance out my hormones, but also has so many other health benefits:
Maca is rich in vitamins B, C, E, and contains high amounts of calcium, zinc, iron, magnesium, phosphorous and amino acids.

Maca is widely used to promote sexual function of both men and women. It serves as a boost to your libido and increases endurance. At the same time it balances your hormones and increases fertility.

Maca relieves menstrual issues and menopause. It alleviates cramps, body pain, hot flashes, anxiety, mood swings, and depression

Within days of using maca your energy level may increase. It is also known for increasing stamina. Many athletes take maca for peak performance.

Many people take maca for skin issues, as for some people it helps to clear acne and blemishes.

If you find yourself overcome with anxiety, stress, depression or mood swings, maca may help ease these symptoms, though of the evidence is anecdotal. Some have reported an increase in mental energy and focus.
Now that's a superfood!! Read more about the health benefits of Maca here.
Enjoy these superfood protein power bars!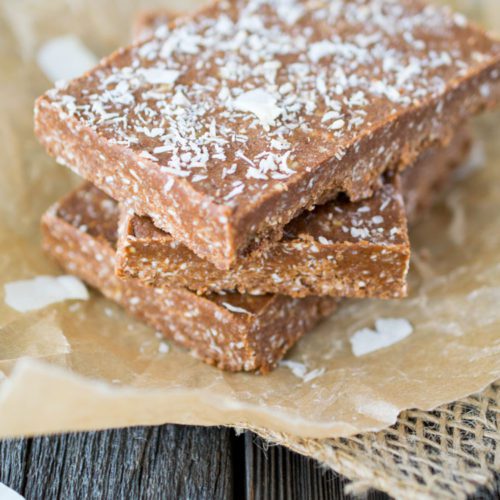 Cacao Power Protein Bars
Raw, vegan protein bars with superfoods.
Instructions
Combine all ingredients in a food processor until a dough is formed or batter starts sticking together. If it is not sticking together add more nut butter or liquid sweetener.

Scoop batter into an 8 x 8 square pan lined with parchment paper and flatten with a back of a spoon until even.

Put in the freezer overnight or for 1 hour to set. Remove and cut into squares. Keep in fridge or freezer until eaten. Makes 9 - 12 bars.
Notes
You can omit the maca root powder, sub carob powder instead of cacao, and sub chocolate sun warrior vanilla protein powder instead of vanilla.