I am posting this recipe on Canada Day, so HAPPY CANADA DAY Everyone!  Okay, so this recipe was created due to a funny story… oh, you want to hear the story?  Alright then… I came home on a Tuesday afternoon with my hands full of groceries, rushed into the apartment and put the groceries on the floor so I could take my dog out to do his business.  It was a nice sunny warm afternoon and I was thinking how happy I was and how amazing I felt!  I came back up to the apartment, dropped my dog off and rushed back downstairs to pick up my dry cleaning (the dry cleaner is located in my apartment building).
I had a lot to pick up, I was really overdue for my dry cleaning so my hands were REALLY full!  I entered the apartment building holding my keys in my hand underneath all my clothes and just as I was stepping into the elevator on the main floor it happened! In sloooooow motion every key I owned slipped from my hands at the exact moment I stepped into the elevator causing them to fall all the way down the elevator shaft!
I stood there in shock for a moment in disbelief of what just happened and then panic set in; my groceries were on the floor in the apartment, I was starving for lunch and all I wanted to do was take my dog for a walk.  I sat down on the couches in the lobby and first called a locksmith, then I remembered my mother had an extra key so I called her and thank goodness she was available to let me in :). Yay, I could get into my apartment, but then I started thinking about my car keys and fob to gain access to the parking, and I'll admit, I started to cry a bit.  Who drops their keys down an elevator shaft? Then I started to call everyone I could in my family because of course I wanted everyone to feel sorry for me and let them know how dumb I can be lol!
My next phone call was to the building manager because I was sure their was a way to retrieve them.  Would you know, this apparently happens all the time!  He let me know he could get someone to retrieve them that week (I could not even wait a day), so I started to panic a little more causing a little more tears.  Thank goodness for the generous tenants in the building, one of them in particular proceeded to lend me his fob until I could retrieve mine.  I thought that was so nice, even though he had extras, I was surprised by the generosity.
Okay now I'm rambling… long story short… my amazing mother came to the rescue, let me into the apartment, and my awesome building manager was able to get the elevator guy out that evening and retrieve my keys for me, yay!! So, it was not the end of the world as I had thought :).
I returned the fob to the generous man who had lent it to me and promised I would make some amazing treats for his generosity.  So I got to work the next day and this recipe was the result.  I still have yet to receive feedback, but of course I saved some for myself to taste and they were amazing! Like I said, BEST EVER almond butter cups, no seriously!!
Moral of the story – I'M SO DRAMATIC, lol! And… in a not so great situation can result in an amazing recipe!  🙂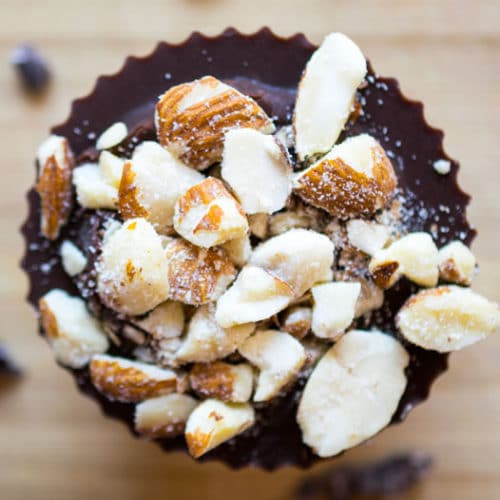 Best Ever Almond Butter Cups!
Raw, vegan, chocolate almond butter cups.
Ingredients
Almond Butter Layer
1/2

cup

coconut butter

melted

2

tablespoons

raw almond butter

1

teaspoon

almond extract

1

teaspoon

agave
Instructions
Chocolate Layer
Slice the raw cacao butter into thin slices.

Melt the cacao butter double boiler method on the lowest heat setting.

While the cacao butter is melting, mix the raw cacao powder and salt together in a medium size bowl.

Pour the melted cacao butter into the dry ingredients, add maple syrup and vanilla extract and mix well to remove the clumps.

Pour chocolate mixture into cupcake molds 1/3 full using only 1/2 of the chocolate mixture.

Place molds into the freezer to set while making the almond layer.
Almond Layer
Melt the coconut butter double boiler method on the lowest heat setting.

Pour melted coconut butter into a small bowl, add raw almond butter, almond extract and agave and whisk with a fork until smooth.

Remove cupcake molds from the freezer, pour almond layer on top of chocolate to fill cupcake molds half full.

Place back into freezer to set for 15 minutes.

Remove cupcake molds from freezer and pour the rest of the chocolate mixture into the molds until full.

Place back into freezer and let set for a minimum of one hour.
Notes
You also use cupcake liners in a muffin tin, butter cup molds or line muffin tins with saran wrap! If the rest of the chocolate mixture starts to harden before you use it, put the bowl in a bigger bowl filled with really hot water to re-melt it.