Apple Crumble Coconut Yogurt Parfait (Dairy-Free, Gluten-Free, Raw)
Packed full of nutrition, this breakfast/snack is super simple to make with little equipment required.
This recipe might seem daunting because there are a lot of steps involved, but trust me, it's super easy and oh so yummy!
I've made my coconut yogurt for a while now. This recipe is super simple and beneficial for your gut health.
Fermentation Health:
Probiotics can balance the friendly bacteria in your digestive system,

help prevent and treat diarrhea,

improve some mental health conditions,

and boost your immune system.
Read more about gut health and probiotics here.
Have you looked at ingredients of store-bought dairy-free yogurt? Unfortunately, many brands are full of artificial sweeteners and inflammatory thickeners such as guar gum and carrageenan.
Making coconut yogurt at home will make sure you are eating ingredients to help your health. Plus play around and have fun; you can make so many varieties and flavors.
Perfect for breakfast, dessert or a snack, this parfait will leave you satisfied. 🙂
Enjoy!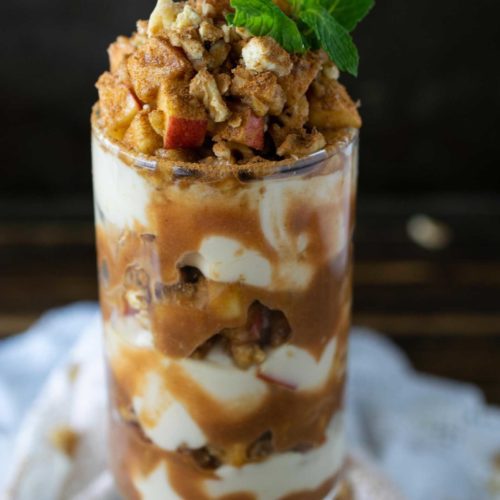 Apple Crumble Coconut Yogurt Parfait with Caramel Drizzle
Fermented coconut yogurt parfait with a dessert twist!
Ingredients
Fermented Coconut Yogurt
2

cups

young coconut meat

1/4 - 1/2

cup

coconut water

2

capsules

dairy-free probiotic

2

tbsp

coconut nectar

or any liquid sweetener

1

tbsp

lemon juice
Apple Crumble
2

gala apples

small diced

1

cup

walnuts

soaked and dehydrated

3

tbsp

coconut sugar

1

tbsp

lemon juice

1

tsp

cinnamon

1

tsp

vanilla extract

alcohol-free

1/2

tsp

lemon zest

1/8

tsp

himalayan salt
Instructions
Fermented Coconut Yogurt
Blend coconut meat and coconut water in a high-speed blender until very smooth.

Add 2 capsules of probiotics and blend again for only a few seconds until combined.

Place blended coconut in a 1 liter size glass mason jar and cover with cheesecloth fastening with an elastic band.

Place in a dark warm space for 24 hours.

While yogurt is fermenting, get started on the crumble.
Apple Crumble
Pulse all ingredients except apples in a food processor until walnuts result in a crumble.

Add crumble to a medium size bowl with apples and mix well until combined.

Option to dehydrate at 115 F for 12 - 20 hours until fully dry and crunchy. You can also serve it raw as is but dehydrating gives it a nice crunch adding texture to the dish.
Caramel Drizzle
Soak dates for minimum 1 hour in hot water.

Blend all ingredients in a high-speed blender until smooth and creamy.
Assembly
Once coconut yogurt is fermented blend with liquid sweetener and lemon juice until smooth. It should smell sour once done fermenting.

Place coconut yogurt in a piping bag and cut off the tip about 1/2 an inch in diameter.

Place caramel sauce in a squeeze bottle or piping bag cutting the tip off to reveal a small hole.

Squeeze caramel drizzle on the side of your parfait glass starting at the bottom while twirling the glass all the way to the top.

Pipe coconut yogurt in bottom of the parfait glass, layering with crumble and more coconut yogurt. Repeat until glass is full and garnish with more caramel drizzle and a sprig of mint.
Notes
Coconut Yogurt: do not use metal utensils as it will mess with the fermentation. Storage: Fridge in a sealed glass container for 10 days. 
Crumble Storage: if dehydrated, in a container in the freezer for 1 month. Fresh - sealed container in fridge for 3 days. 
Caramel Drizzle: sealed container in fridge for 3 - 5 days.